Having a Facebook business page is important, but have you thought about making a plan, and modifying your business page to help boost your business?
I'm sure it's not something that has directly come to mind, has it? But think about it…growing your profile could help boost your business and build engagement.

Here are some tactics and engagement techniques we recommend adopting on your Facebook business page so you can build a better sense of brand and business values.
Be personable and engaging
Being personable doesn't have to only stay in your meetings and in the workplace. Think about how exhausting it would be to turn the charm on and off all day. Sounds tiring right?
People are drawn to consistency and personable qualities in people. If you're consistent in your mannerisms and how you act with people, you'll be easy to get along with and better to engage with.
With this in mind, consider interacting with people on your Facebook business page, the same way you would when getting to know a lead.
If people can see you're personable and approachable on your page, this might help them be more comfortable reaching out about the valuation they requested.
Here are some ways you can be more personable and engaging on your Facebook business page:
Ask your followers daily questions: Take a moment to post a question on your status to get to know your followers a little better. Remember, this isn't just to get to know the people who follow you on Facebook. This will show up on multiple peoples pages whether they're your direct friends or not, which means that this kind of engagement could potentially get to your leads. Take a look at the image below to see what kind of questions you could be asking.

Post Images of your clients after the closures: This would obviously be with their permission…but posting a thank you with their picture will demonstrate how much you enjoy getting to know your clients, and how happy you are to be on this journey with them. This can also function as a referral. If your leads see how many people you're helping on their journey to selling or buying their home, they'll again feel more comfortable and confident about reaching out. It's as simple as posting a picture of whomever (with their permission of course) with a small comment about their home, and how it was wonderful to work with them.
More engagement will also mean more testimonials. Donna Swanzy and Isaac Verge are two examples of Realtors who have extremely healthy Facebook Business pages. These Realtors are so engaging that their clients are posting wonderful reviews of their experience. This is so beneficial for so many reasons, but the main one being they can serve as referrals if a lead is to view your business page.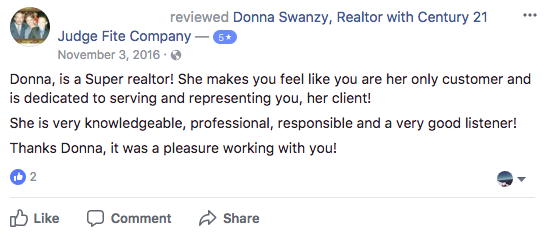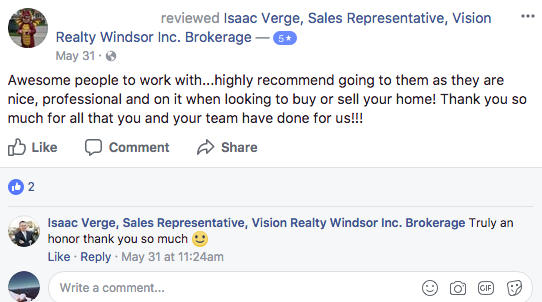 If you grow your review section of your business page, you'll be more trusted. Isaac even comments on these reviews and interacts with his clients – which shows a side of his personality for those who have yet to meet him. Having these kinds of interactions will help with real estate referrals, as more than 60% of online home buyers said that if the realtor they're searching has great reviews they're more likely to contact the agent. To take a look at their business pages, click on the links below!
Donna Swansy – Facebook Business Page
Isaac Verge – Facebook Business Page
Be professional & filter what you post
Social media can be a dangerous place. We've always been told that you should post anything you wouldn't want in the newspaper – so it's probably a good idea to stick to that mantra with your personal and professional page.
Sure, you can post personal components of your life, as well as comment on things your friend's post…but maybe consider not posting that tipsy group picture from your work Christmas party last year.
Make sure your conscious of what you're posting, because not only will your friends see it, but potential clients and leads might too. Again, we're not saying to stay strictly professional, but it's important to have a good balance between the two.
It's so important to look human, approachable, and personable…but it's also important to make sure you keep a professional quality to
If at any point you question whether to post something or not…a good question to ask yourself is "Would I want this in the newspaper?" If the answer is no, then its probably not worth posting.
Consider posting video's
We've mentioned that video marketing is becoming way more popular as time goes on, so we absolutely recommend posting videos on your personal as well as your business Facebook page.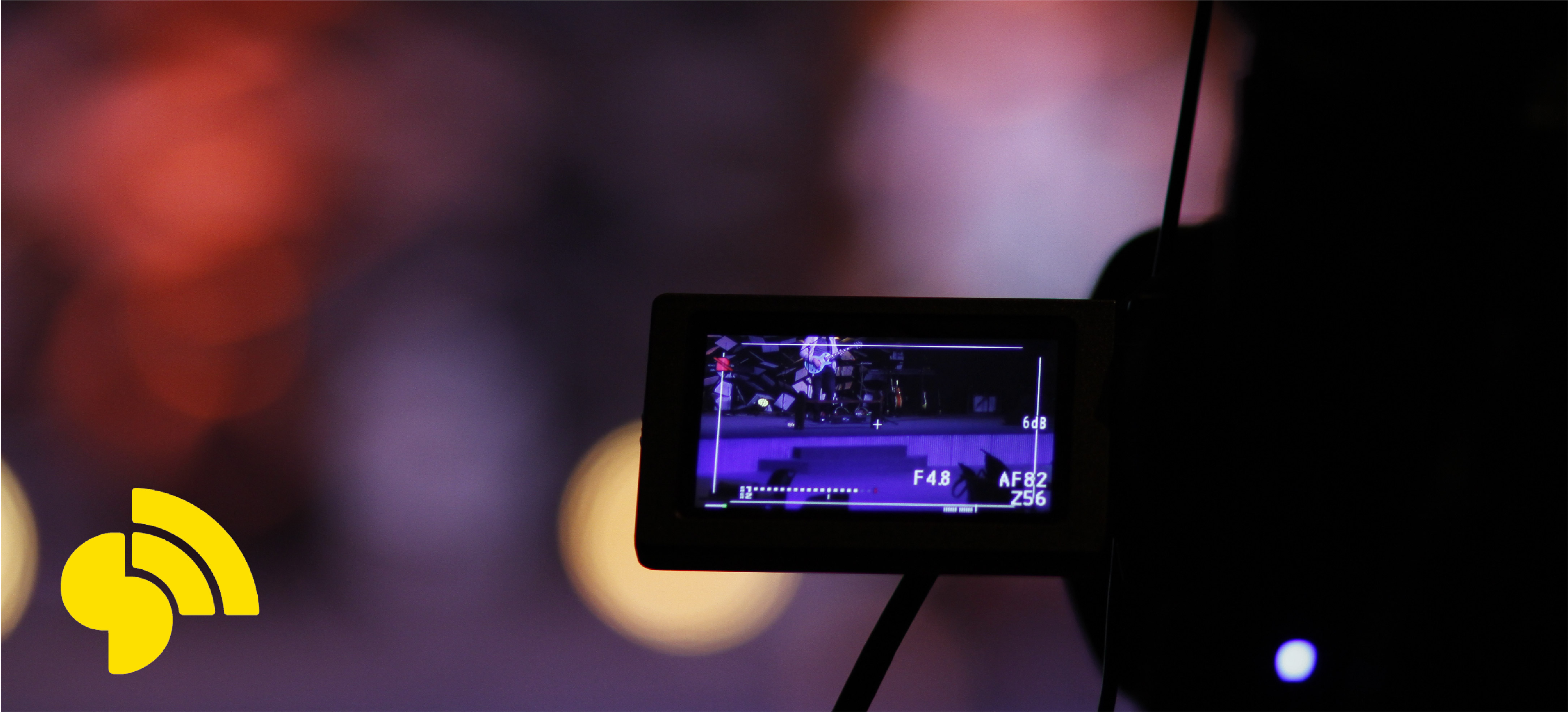 Video marketing is important for so many reasons and is also an excellent way for people to market their business and who they are as individuals. I'm sure this isn't the first time you've heard someone plug video marketing for your business – but here are some concrete reasons why you should be considering this in your business objectives.
People react differently to audio than they do to visual. There's a huge difference between calling someone, and introducing yourself over the phone…to a video introduction online.
The most important part of sending your leads a video of yourself is that you need to be yourself. Give people a quick introduction to who you are, and what you do. Explain that you'd love to help them on their adventure of selling, and buying a new home – and would be happy to answer any questions they may have about the process. This should be a quick clip – nothing more than 15-25 seconds. You want the information to be direct, and straightforward.
To simply this, we've provided you with a video sample below.
Donna Swanzy – Bombbomb video example 
Consider making a similar video and posting it on your business page. Trust me, it'll be a huge benefit.
Take an afternoon, build a plan and begin modifying your Facebook pages. Only positive things can come from this, and you'll begin getting on track for a better and stronger business in the New Year.
For any other questions or guidance on how to continue boosting your Facebook pages, visit our help site for more information and guidance!

Other Interesting Blog Posts:
Facebook Real Estate Ads
Find buyers and sellers with Facebook ads

Real Estate Leads Generator
How to capture real estate leads online today.
Facebook Real Estate Leads
How to generate inquiries with Facebook farming
Facebook Real Estate Advertising
70% of all home buyers and sellers work with the first Realtor they meet
Facebook Real Estate Ads
Generate Ongoing Facebook Leads
Introducing you to the proven strategy that will grow your business
StreetText
Facebook Ads