Today, we're going to go over how to generate leads on Facebook. You will learn what lead generation is, how Facebook lead generation works, an overview of demand generation, what a funnel is, and what you can do to generate your own leads on Facebook.
Why do you need leads to grow your business?

Many people dream of having a fast growing business. Whether it's being at the top of your market, being part of the 3%, getting on Forbes Top 50 under 50, or simply having more freedom. Having a working plan in place for customer acquisition is essential to rapid growth. And lead generation is where it all begins.
Short-term hacks vs. long-term strategy
Most new businesses fall into the "short-term" trap. We've all heard of the saying, "The grass is greener on the other side." Well there's another equally problematic mindset, "There's got to be an easier/faster way." I can empathize. We all need to eat. And there are times when chasing the next meal becomes the only thing that matters just to get to the next month. But… the trap is staying there too long that it becomes business-as-normal. The trap that many new businesses fall into is staying in a constant state of wanting something better, but not committing enough time or money to actually make it happen. This mindset can be detrimental, but you can get out of this trap with the right strategy.
Have you ever felt that your business is in a rollercoaster ride? It's busy one month and dead quiet the next. Have you changed strategies before giving it time to grow, or invested heavily into systems only for them be outdated when something new comes along looking shinier than before (but probably not as helpful)? This doesn't have to last forever-it just takes patience!
A short-term plan is one that you won't continue doing in the future. For example:
Personally following up with every new inquiry
Relying soley on your personal and professional network to get customers
A long-term plan is one that scales with your business. Such as:
Creating a drip email campaign
Using technology to follow up with inquiries, automatically
Building a scalable lead generation process
As your business grows, keep these numbers in mind:

0-10 transactions: 90% short-term tactics | 10% long-term tactics
10-50 transactions: 50% short-term tactics | 50% long-term tactics
50-100+ transactions: 20% short-term tactics | 80% long-term tactics
Let's jump into it.
What is lead generation?
First, let's begin with lead generation. It's important to have a firm grasp of the topic as lead generation a fundamental part of growing a business.
In marketing, lead generation is the initiation of inquiries into a businesses products or services. It's important to be able generate leads and sales conversations in order for your business succeed. A good way of doing this, according to Forbes Magazine, is through 'lead generation'. Lamins terms; lead generation refers the initiation or creation process where inquiries about products/services come from different sources such as list building (e-newsletter), e-mailing lists acquisition & cold calling which all have their benefits but not always 100% success rate either because some people might just ignoring emails if they arrive at work late every day so there are other techniques out there like webinars
Once captured, a salesperson reviews and qualifies the lead. If deemed to have potential, the lead gets converted to an opportunity for business. The opportunity then has to undergo multiple sales stages before the deal is won.
Lead generation therefore is at the top of the sales funnel. There is much debate in the sales profession as to what constitutes an actual "qualified" prospect. It's generally agreed that a BANT is a good formula. A qualified prospect has the budget, authority, need and the timing is right. While it's possible to get some of this information ahead of time, this step requires sales prospecting. The process of reaching out to a lead andonly after this step does the lead qualification start. I've seen many people fall into the mistaken belief that lead generation should bring them pre-qualified leads. The best a well designed campaign can do is help identify people most likely to have better quality scores. No matter how you do slice it, it still takes a human to qualify a lead.
The flow is as follows: (Wikipedia)

Leads are generated
Sales prospecting begins to identify good potential fits
A lead is qualified
Follow-up begins until the timing is right
Sales activities start
How does lead generation work on Facebook?
Facebook lead generation is the process of collecting leads for your business through call-to-actions on paid Facebook ads. Usually seen as sponsored posts in the newsfeed.

Unlike other digital advertisement networks, Facebook enables you to reach audiences with behaviors similar in nature and interest as your leads. Because of this power over targeting options for specific users or demographics-you'll be able get ahead before they even decide on who their solution is going too! With access early into education process; we can provide choice based off needs/wants which will lead them back directly towards our services. This is one of the primary reasons Facebook is so effective at building a list for email newsletters and prospecting.
Facebook lead ads versus Facebook conversion objective
Facebook gives you many options to create an ad that works best for your needs. However, this creates the question, which ad type is most effective?
Facebook leads ads allow you to have a lead provide information without leaving Facebook. Whereas conversion objectives rely on capturing information in a hosted landing page.
Facebook lead ads
When a person clicks on your ad they are taken to an on-Facebook instant form. They can then confirm prepopulated info or enter new info before clicking the "submit" button.
The advantage of using a Facebook lead ad is that you can collect contact details without requiring a person to leave Facebook. The disadvantage of lead ads is that the leads do not automatically connect to your CRM. This makes automating follow up challenging. You can either use StreetText. a 3rd-party tool, or download the list of leads manually. The other disadvantage is that fewer people click the link to visit your website.
Facebook conversion ads
With Facebook ads that rely on a conversion pixel, you can take advantage of the social media platform by driving traffic to your website. You need only fire up an ad and wait for people who click through before they have any idea what's happening — or why it matters so much! The downside? Well…you'll have to enter all their contact information at once (and we're not talking about just name/email here).
The advantage is that if you're using StreetText or a form you can connect your submission directly to your CRM. Also, since the person is on your website you have to opportunity to provide them secondary offers.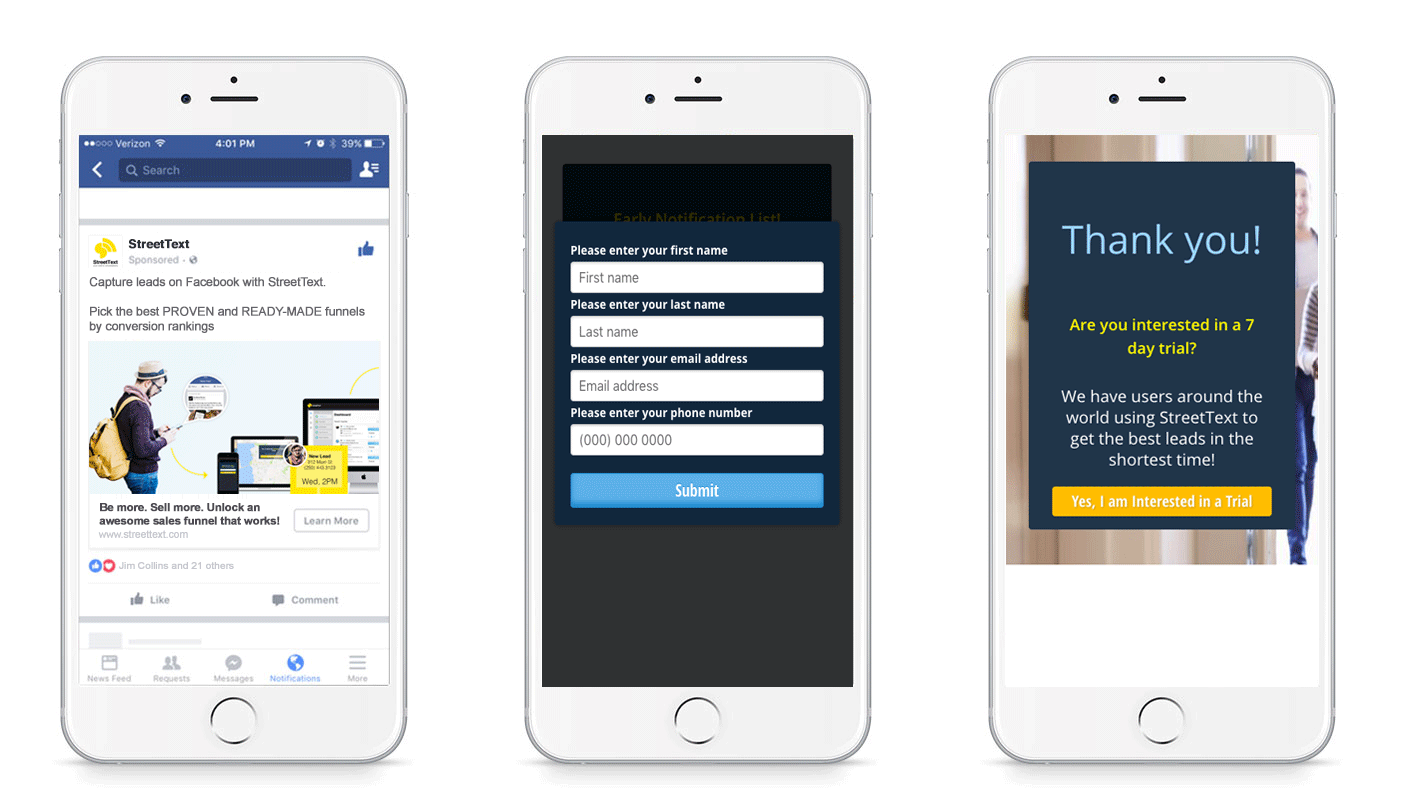 Which is best?
We've tested many interations of both, and can conclusively say that while both are effective, the conversion objective gives you consistent results and more ability to make the most of your leads journey.
You may now be wondering, what should I make my ad
Do you have a strategy for Demand Generation?
Demand generation is the focus of targeting marketing programs to drive awareness and interest in your company's products and services.
Facebook is a cost-effective way to simultaneously generate demand and leads.
What is a funnel?
I'm sure you've heard the word funnel when it comes to digital marketing. Wikipedia describes a conversion funnel like this, "the journey a consumer takes through an internet advertising or search system and finally to a sale."
Using this metaphor, advertising efforts can be aimed a top of the funnel, middle of the funnel or bottom of the funnel potential customers. (Also known as ToFu, MoFu, and BoFu).
ToFu (Top of the funnel)
This will be your biggest audience. It's the top of the funnel. Think of it as content that attracts the broadest segment of people that may be interested in your company. For example, a baker may share a free download of delicious recipes.
MoFu (Middle of the funnel)
Once a lead converts to a ToFu offer, they'll progress to the MoFu stage. Think of this as the decision making phase. If a person clicked on a list of homes for sale in ToFu, they will now be browsing list of homes.
This is viewed as the most complicated stage because of the diversity of needs combined with they fact that they're not fully qualified.
In this stage of the funnel your content should both continue to educate this person on what they need to make a decision and why your company is the natural choice, when they are ready.
BoFu (Bottom of the funnel)
This is the most crucial stage since you're going for the sale. At this point a person has learned about your business, has educated themselves on their options and is ready to make a decision.
BoFu content consists of a pricing page, free trial, free evaluation, free demo, etc.
You will want to have sparked a helpful conversation with your lead by the time they have reached BoFu. You've prospected, cultivated and nurtured your lead, now it's time to harvest.
Building your own Facebook lead generation funnel
Building an evergreen funnel
Creating a lead generation funnel that gets you leads takes time. Setting up the email drips to nurture them and the text message bots to ask qualifying questions all takes time. But there's good news at the end of the road.
Evergreen funnels!
When you setup a good ToFu funnel, your lead generation campaign begins to take on a life of its own. In fact we've seen some users run funnels on StreetText that have continued to perform well for years. Bringing them a steady stream of the right prospects, week after week.
It's an investment worth making.
An evergreen funnel is a lead generation campaign that never grows old. When you have one running, there's no need for time-consuming maintenance work like prospecting and serving clients because these tasks are taken care of by your existing customer base through their ongoing purchases!
Conclusion:
Generating leads on Facebook can grow your business. You can capture leads on Facebook using Facebook lead ads or a Facebook conversion objective ads. Obviously, I'd love for you to try a tool like StreetText to get a proven and ready-made lead generation funnel. However you choose to generate leads, it's worth it.
Lead generation on Facebook is a long-term strategy. If you're serious about investing in the growth of your business and getting a system that scales with you, then Facebook lead generation is for you.
See you on Facebook!