Take a guess: How many times have you sent emails, text messages or left voicemails to leads this past year? Here's another question, how many times did you reach out before giving up on the prospect?
When it takes 7-13+ touches to deliver a qualified sales lead, it's no wonder that the average industry conversion rate is so low.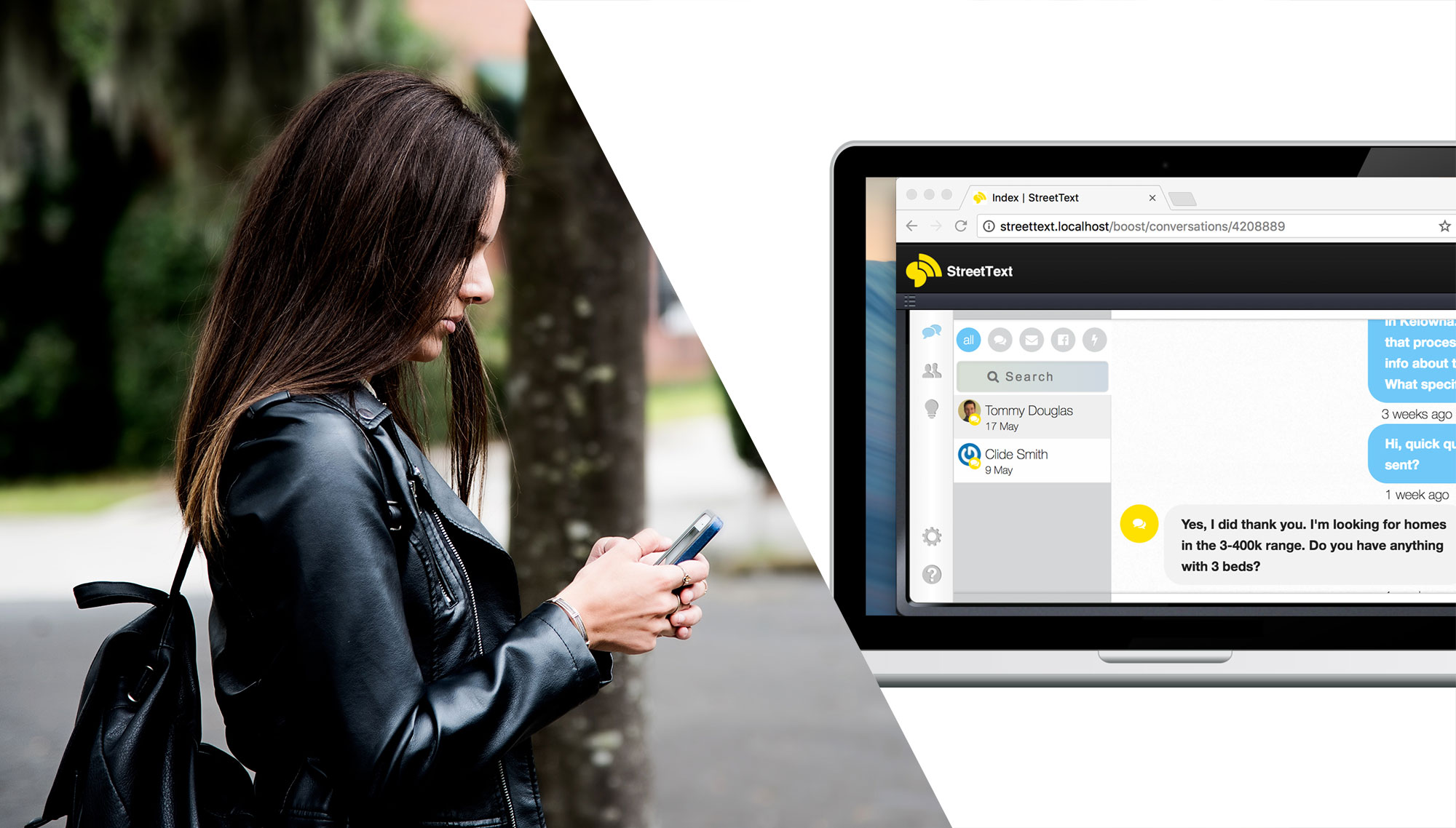 This is in part, why many agents rely on drip email to stay in touch. Email helps us connect, communicate and coordinate but is it overused? We receive an average of 94 business emails every day. It's no surprise that it takes weeks, months and sometimes years of emailing prospects before they respond. Bottom line, the benefits of email often come at the expense of time.
Can you wait 3 months for your first consultation and 4-5 months before you see a deal from online leads? That takes a lot of commitment to your strategy and strong mental staying power. Using drip email to nurture your leads is a "must do" but it is a long game strategy.
Fortunately, the team behind StreetText has developed another way.
Save time: How to create custom text message introductions with StreetText
Today you'll learn how SMS can trim time off of your lead nurturing through the power of automation.
Starting conversations with leads using SMS

The automated SMS feature allows you to make connections through a primary means of communication… text messaging. More leads replying, more conversations starting and all happening faster than they've ever been before. The results we're seeing are fantastic.
Best of all, you can respond from within the conversations tab in your StreetText account, or take the conversation over directly with your phone.
The automated feature will function a lot like a drip email campaign. The text messages will go out to leads on a schedule. Once the lead replies to the message, the automation will stop, and you can interact with them via text as normal! 
What is Drip Text Messaging?

You are probably familiar with drip emails, but have you ever heard of drip text messages? The idea of drip nurturing came from drip irrigation. It was a way to water your prospects to maturity automatically in order to get the same or better results than one would when having to water them manually. Well, today we would like to introduce you to drip text messaging.
It works just like drip email, only with the sole intention of starting conversations.
Setting up your text message automation workflow
If you want to supercharge your follow-up workflow, tailor custom text messages to your communication style. Let's get started.
Start by hitting the "New Workflow" button, which will open up a blank template to work with.

Next, click "Add Trigger" link, which will open up a window to choose how you want to start your workflow automation.

When the window opens, pick the type of automation trigger you want to use. If this is part of your lead capture process, choose a form. Make sure you choose a form that includes a field for a phone number.
Note: SMS automations can only be sent to contacts that provide their phone number. It's important to make the conversation feel as natural as possible and to provide value to your contact. For that reason, StreetText's system will automatically hand the conversation over to you as soon as a response is received and will stop sending further automated messages. That way, once the conversation is started, you can personally assist your new contact.
Next, pick the form step you want to include in the workflow. To increase form conversion rates, StreetText forms can be broken down into micro-commitment steps. The added benefit is you can create unique workflows depending on how your lead interacts with your lead capture forms.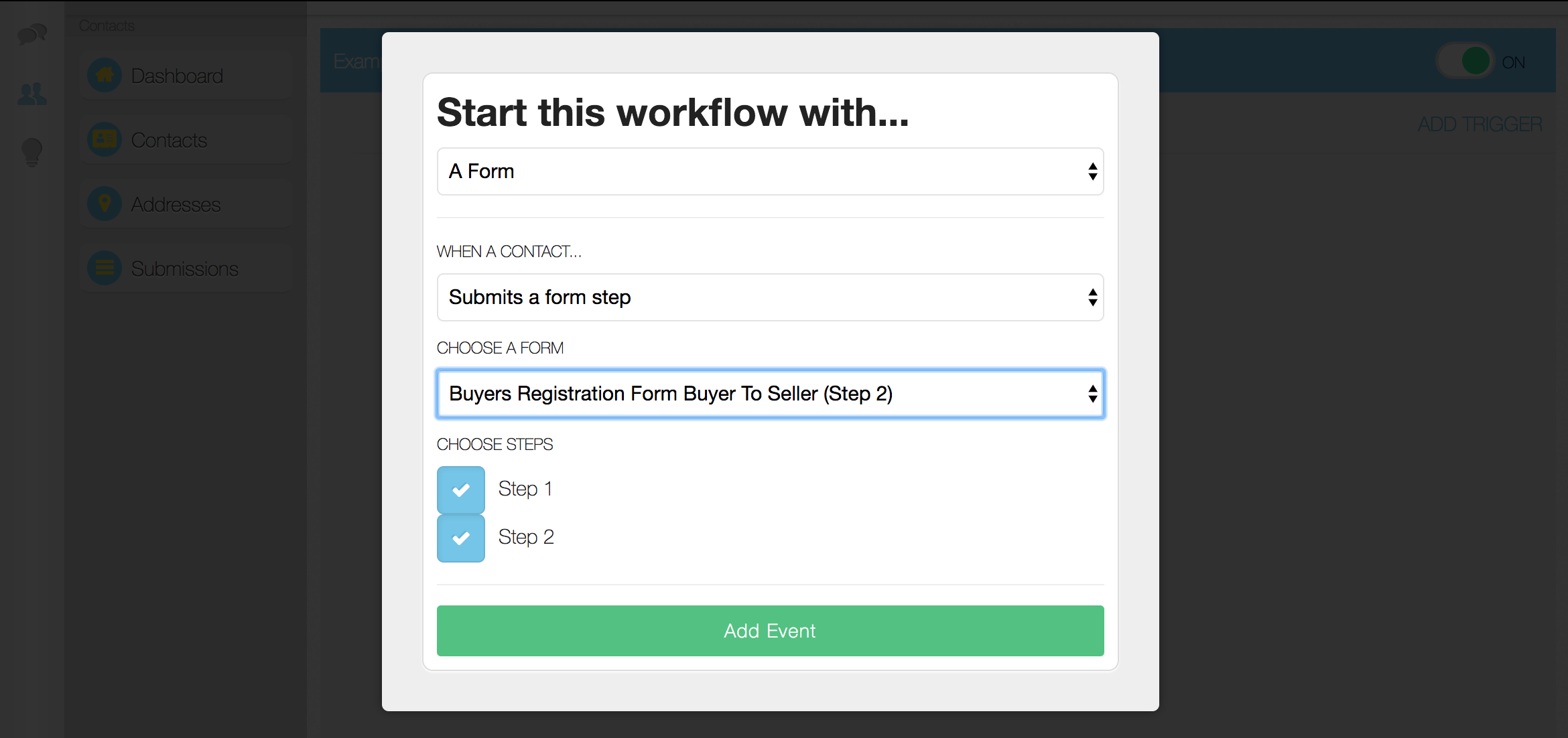 Click the "Add Event" button.
Congrats! Now you are ready to add a personal text message response :)
Click "Add Action" directly below the newly added trigger

A popup window will open. Next, choose "A text message" under the type of action

Enter the message you want to send.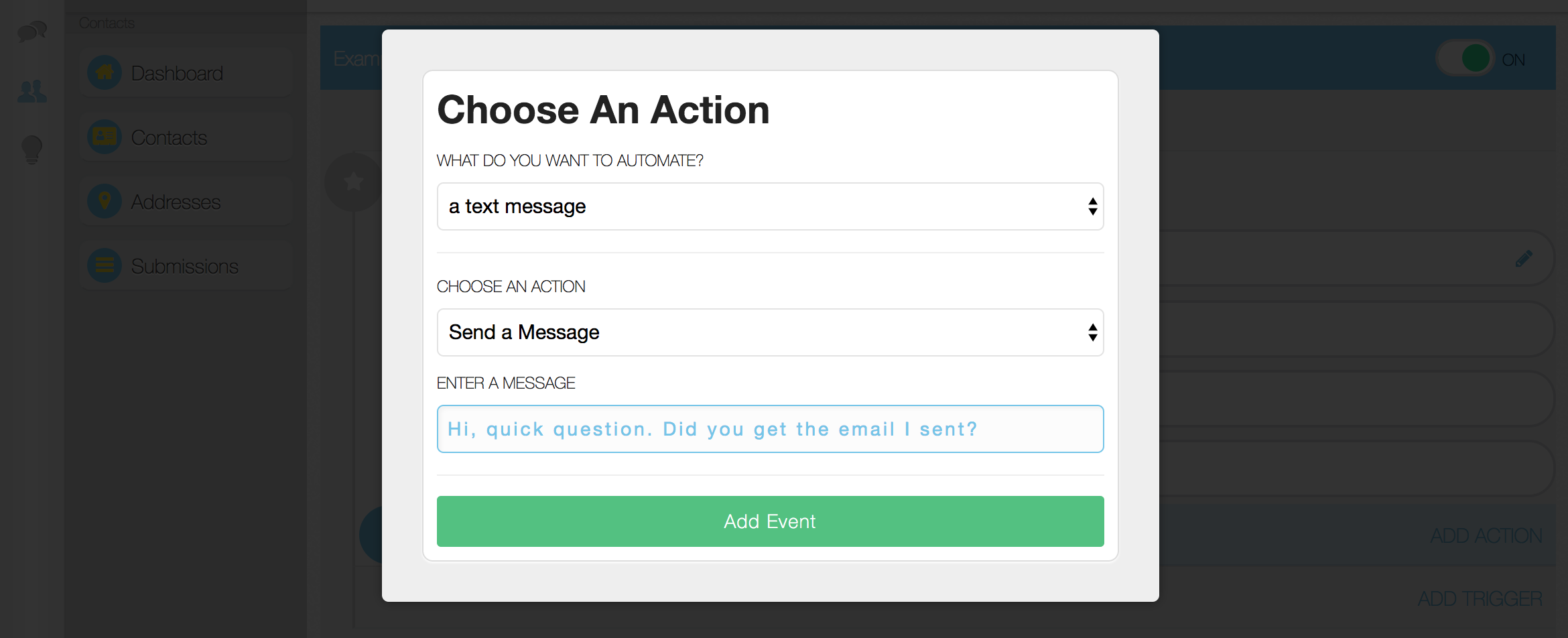 Click the "Add Event" button, and congrats your first text message is created!
Wasn't that easy?
Now your text message will send automatically whenever a new contact fills out that form. Add a couple more messages with delays and you will be able to customize how you reach out to your new contacts, automagically!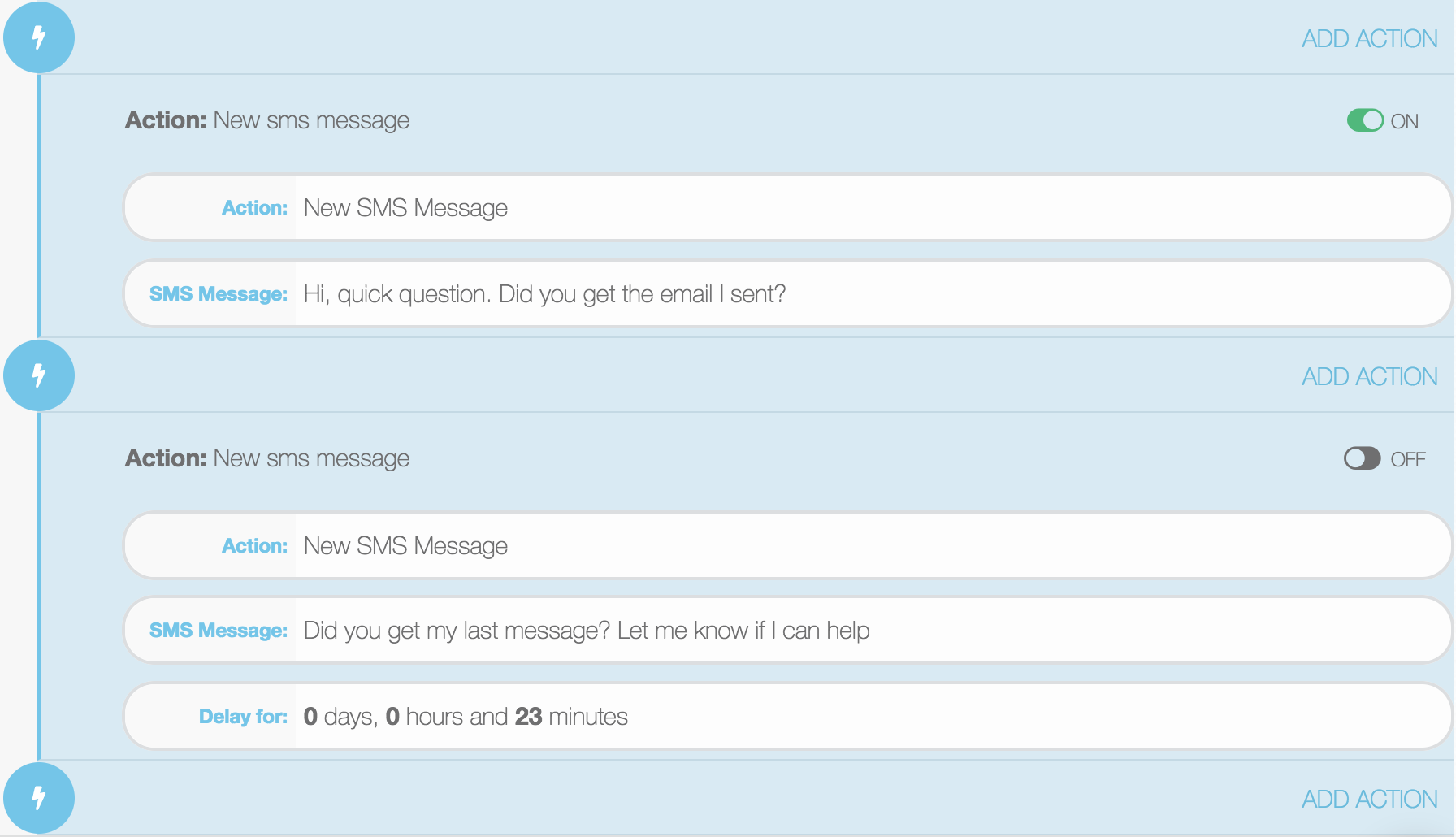 Okay, that's cool. Now, how is it working?
What do you respond to faster? An email or a text message? Most of you will probably have the same answer – especially when the average person checks their phone more than 94 times a day.
Turns out the same is true of your online leads. They respond much faster to text messaging. Here's an overview of what we've been testing and the results.
So far, more than 40% of people are replying to the automated messages, and of those, more than 50% are currently interested buyers.
With that in mind, why would you wait to connect an automated SMS drip to your lead capture system?
Automated SMS feature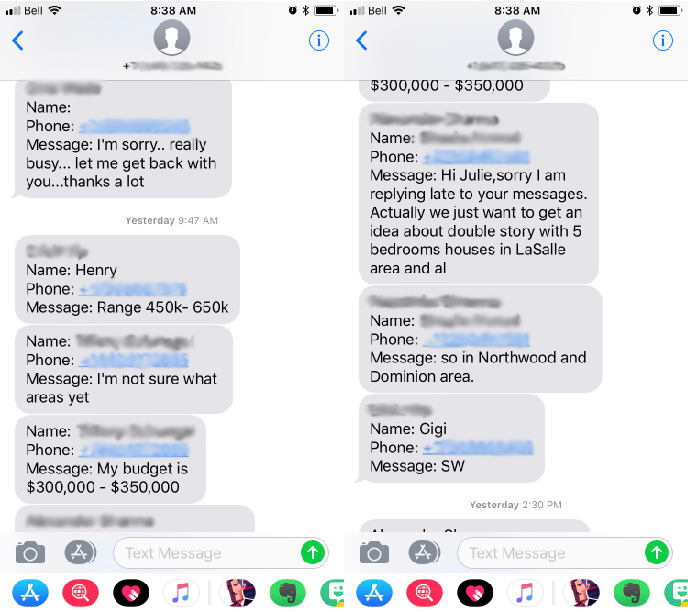 Does StreetText have a campaign setup and ready to go?
Some people would prefer to have this solution, without having to think of what to say. No worries, StreetText can provide you with that as well.
StreetText will set you up with an 8-day text message campaign designed to start more conversations.
When the messages go out, they are sent by your 'new' assistant Julie
Julie automatically texts every lead on your behalf and touches base with the lead over the course of 8 days. She's been built to personally start conversations for you, while always providing value over the course of the 8 days the messages are being deployed.
Stats show that 80% of leads will respond within the first 7-13+ contacts… especially since the average human checks their mobile device at least 94 times a day. With numbers like that, it's a no-brainer why we wanted to build a tool that helped you get your name on a frequently checked platform, automatically.
Conclusion:
The results are in, text messaging is starting more conversations faster than drip email, by a lot. Email is still important as we know, as people are more comfortable sharing their email than their phone number.
We believe that providing value is the best way to make a great first impression with your prospects. Text messaging is the same. Conversations start when you provide useful and actionable questions. Technology like this is about making it easier to connect people, not to replace that human-to-human contact. Once the contact is made, StreetText's SMS gets out of the way.
The next time you need more conversations with leads… oh wait, now you can rest easy knowing that StreetText is taking care of starting conversations on your behalf, no matter how busy you may have been last week.
Interested in checking out StreetText's conversation manager? Feel free to Book a Demo and say "hello" to your personal conversation manager.
Other Interesting Blog Posts:
Facebook Real Estate Ads
Find buyers and sellers with Facebook ads

Real Estate Leads Generator
How to capture real estate leads online today.
Facebook Real Estate Leads
How to generate inquiries with Facebook farming
Facebook Real Estate Advertising
70% of all home buyers and sellers work with the first Realtor they meet
Facebook Real Estate Ads
Generate Ongoing Facebook Leads
Introducing you to the proven strategy that will grow your business
StreetText
Facebook Ads