We live in a pretty amazing world today, thanks to the tools around us, we can make a big impact with a little amount of money and time… If lead generation is done correctly.
Here is a strategy you can use over the next 7 days to engage new home seller opportunities.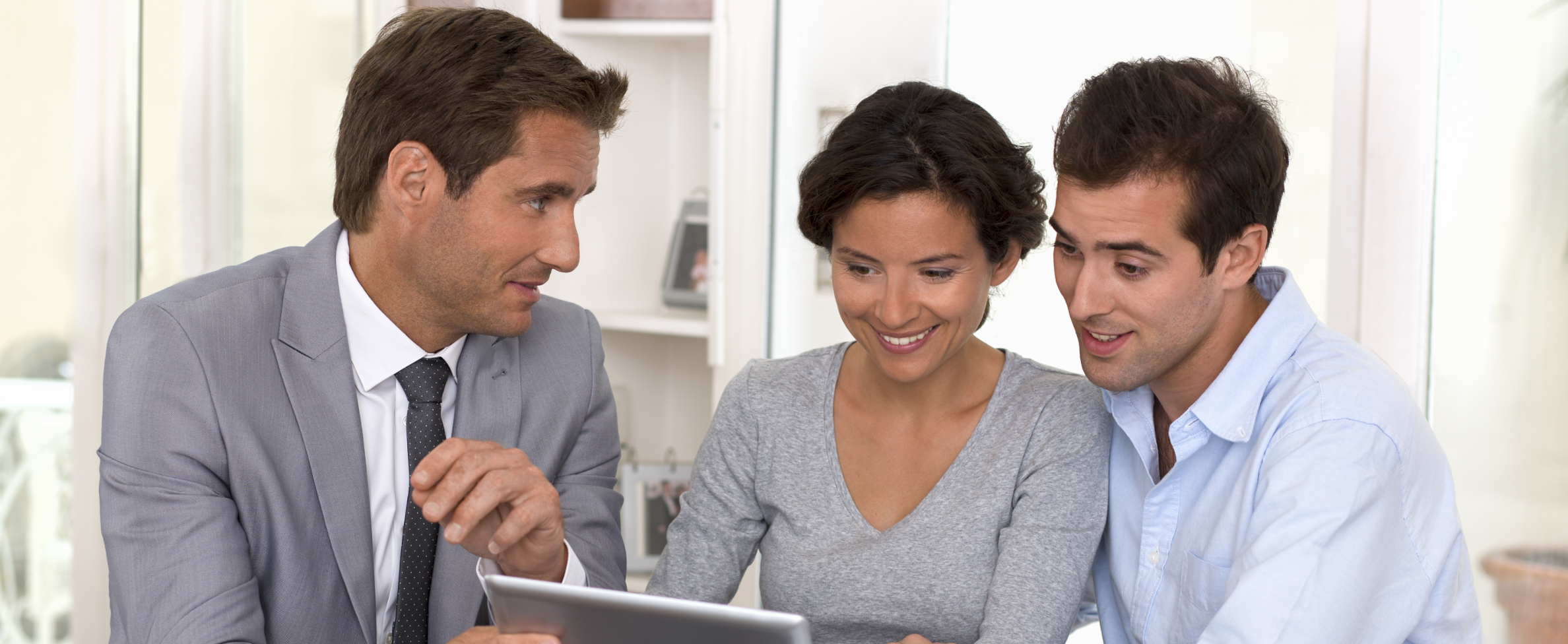 Note: please don't use this if you are expecting a ton of listings to come your way in 7 days. The reality is you will use a strategy like this to meet sellers early in the selling process. I am not saying you won't win your next listing in 7 days, I have witnessed that myself. But it is unlikely, and it is unlikely because of two important facts. Trust and Timing. (Which we will dive into shortly). Agents who believe in treating their leads like referrals build trust almost naturally.
What is a digital door knocking test?
I am going to show you how in 7 days you can digitally door knock on 100's or 1000's of homes in the exact location you want to attract new listings and how to establish trust immediately with each one all for $99 including Facebook ad budget. Sounds like a pretty amazing strategy to test, right? That is because it is, and it's unlike no other. I will leverage some free trials during the 7 days. So the cost structure would change after 7 days, but at least you will be able to fully test the strategy with no risk other than $99 and about 1 hour of your time with HUGE upside. Once set up, it can keep running for as long as your business needs. What is one more listing worth to you over the next 3 months?
Important fact number 1: Trust
If you were meeting a seller for the first time, do you think they will just hand you their home? It can happen… but you should probably approach it by adding value. You only have one chance to make a good first impression. And you have just been given an incredible opportunity to meet someone and now blow them away with how much you care about their needs and their home by providing more and more value. Some of the strategies I will show you actually help accelerate the trust process. It allows you to build trust without even meeting the client.
Important fact number 2: Timing
This one surprises a lot of Realtors, but If you think about it, it makes sense. Agents often want sellers ready to list tomorrow, and who doesn't. But by the time the seller has made that decision they most likely have already started a conversation with at least one Realtor. In fact, the reason they have not phoned you is that you are not on their short list. But you can be the first agent they call. Use a strategy like this to get in front of sellers early making sure you ARE the agent they want to work with. Build that equity now. Get in front of them early. The stats show that most seller leads are 3-6 months out. Because agents don't understand this concept, they unintentionally burn the lead or do not take it seriously in the first week. This means that eventually they'll have no way of staying in touch or adding value. In 3 months the lead can't even remember the agent when they are more serious.
Okay now let's get into the strategy.
StreetText + Zapier + BombBomb = Ability to build relationships with home sellers early StreetText is the leader in providing agents proven Facebook ads, and they do everything. They will set up your ad, create a funnel to capture leads, provide you a dashboard to manage your leads and provide 1 on 1 calls over the 7 days explaining how your ad is performing and strategies to convert your leads. Also, there is no commitment required, so unless you decide to sign up to StreetText nothing happens after the 7 days. Zapier allows you to connect applications, and is very easy to use. For your convenience, we even made a quick video showing you exactly how to connect StreetText to BombBomb. Using this alone will save you tons and tons of time, because as soon as new real estate leads come in instantly BombBomb can send your video to them. How cool is that, right? Its pretty safe to say that BombBomb is the leader in video emailing. It is a great way of building trust early. I have even included a video showing you what to say to your new seller opportunities. It only takes you a few minutes to set this up and now you are able to meet people long before you meet them face to face.
Here are the step by step instructions:
StreetText (Time required 5 min)
Step 1. Create a $99 7-day market test 1. Start by clicking this link and entering in your City. Think of the exact zip or postal code you want to attract more listings in. Then think of the neighborhood the zip or postal code is in. So, for instance, let's say I wanted to target zip code 92101 which is found in the neighborhood of Little Italy of San Diego. I could enter that. I could add more zip codes too, but for Little Italy, there is only one zip code so I will just enter the one. 2. So in this example, I would put. City: San Diego Neighbourhood: Little Italy Zip/Postal Code: 92101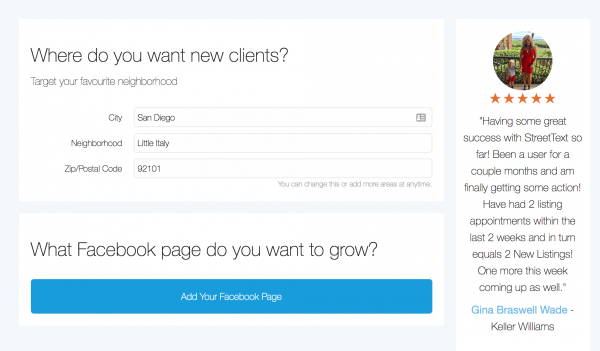 3. Now select "Add Your Facebook Page"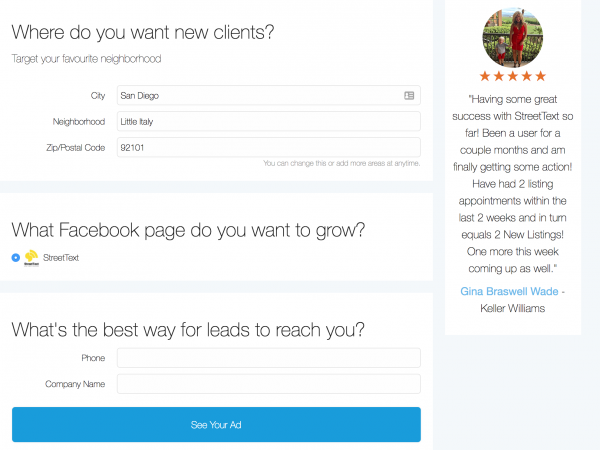 After you click YES on the pop up you will see your Facebook Business Page. 4. Then add your Phone number and Company Name. Then click "See Your Ad"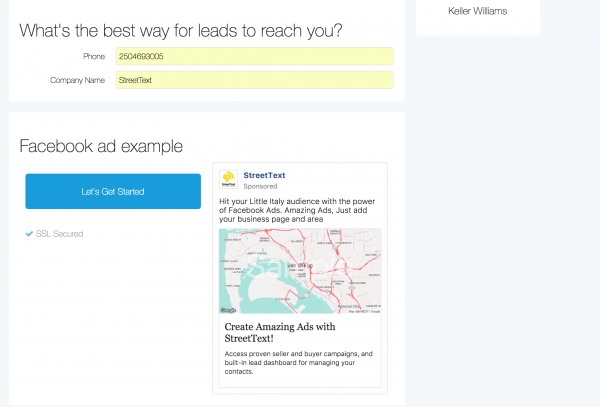 This is NOT your ad, the StreetText team will put an ad together for you. But it gives you a quick perspective of what the ad could look like. 5. Now Click "Let's Get Started"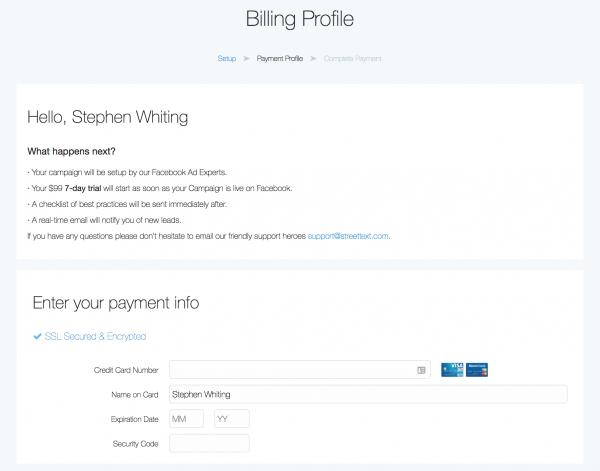 6. Enter your billing details, click verify, and then on the next page review the order and make sure you check the two checkboxes and then click set up. Congrats! You are done! StreetText will take it from here, the only other step is you need to accept the request from StreetText to run the Facebook ad on your business page. If you need help or you get stuck feel free to reach out to StreetText 1-888-287-4686 or book a demo at a time that works for you.
Next up Zapier (Time Required 10 min)
Step 2. Connect Zapier to save time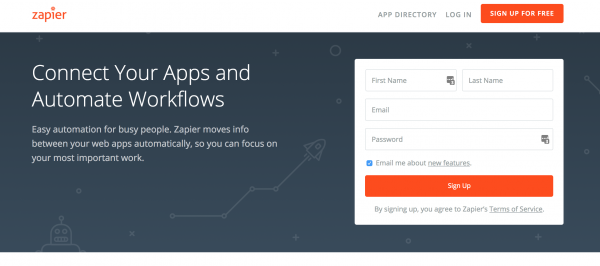 1. Click "Sign Up Free"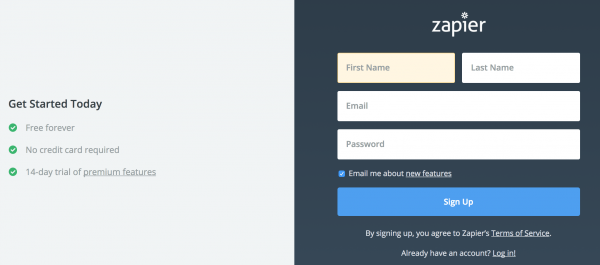 2. Next Click watch the below below on how to "Make A Zap"
Next up BombBomb (Time Required 30 min)
Step 3. Build trust early with BombBomb

Step 1. Start your 14 Day Trial
Congrats! You are well on the way to meeting new home seller leads in your market of choice! There you have it. You just put in place a system to generate seller opportunities AND engage with on autopilot. Give yourself a pat on the back!! Well Done!
Other Interesting Blog Posts:
Real Estate Leads How to capture real estate leads online today.
How to generate inquiries with Facebook farming
Facebook Real Estate Ads Generate Ongoing Facebook Leads Introducing you to the proven strategy that will grow your business