StreetText and Follow Up Boss announced their integration today. It's a truly powerful way to connect the lead generating and remarketing platform of StreetText with the CRM of Follow Up Boss.
Here's what FUB + ST unlocks
👉 Remarket to your entire FUB database of contacts on Facebook and Instagram using StreetText
👉 Auto-sync your contacts between FUB and ST. Including notes, tags, and stages. Ensuring the right ads are showing to the right contact at the right time.
👉 Any updates to a lead are automatically synced between the 2 platforms
👉 Send new contacts captured using StreetText Facebook ads to FUB instantly (no delay with the API connection)
How can you leverage StreetText to run Facebook & Instagram ads if you're using Follow Up Boss? Let's dive in!

Step 1: Login to your Follow Up Boss account and create an API key
Go to admin -> API then create a key there. Here's FUB support article to learn more.

Step 2: Login in to your StreetText account and connect FUB
Go to settings -> Integrations then click on Follow Up Boss. Follow the instructions and voila. You are connected. Here's the ST support article to learn more.

Once connected, your contacts will automatically sync from Follow Up Boss to StreetText enabling you to run retargeting campaigns to all your contacts.
The best part? Is it is connected to your stages. So you can run an ad to a specific stage, such as "Taking to"
What is StreetText?
StreetText is a Facebook and Instagram ad platform that makes it easy to attract, capture, and remarket to leads with paid ads.
What is Follow Up Boss?
Follow Up Boss is an all-in-one contact management tool for real estate agents. It makes it easy for teams and solo agents alike to manage their activities, create smart action plans, see sales performance, and make contact with your leads.
Taking it further
If you're in the Follow Up Boss Facebook community group you can find some amazing resources shared by leading agents to level up your game with ST + FUB.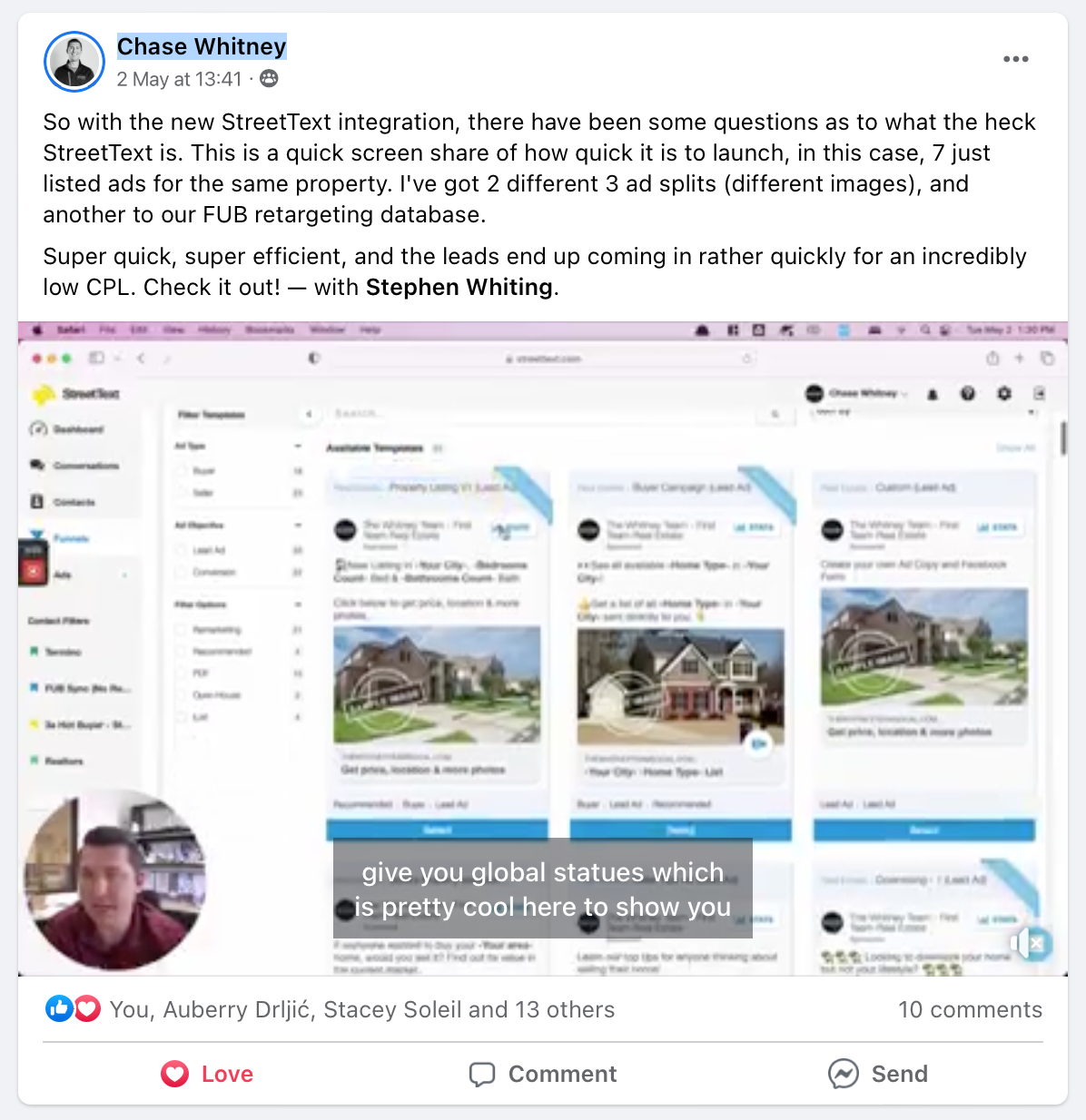 Extra benefits of using StreetText with Follow Up Boss?
You bet!
🔥 The ad the lead came from will automatically sync to FUB!
🔥 See all returning leads in StreetText, automatically. So you can capture these highly engaged opportunities.
🔥 Set up ongoing text message campaigns to capture more conversations. And of course, everything syncs.
I know many of you have been asking for this. Let us know what you think!