Generating leads online isn't always sunshine and quick deals. Here is our list of the top 10 mistakes agents make when generating leads online.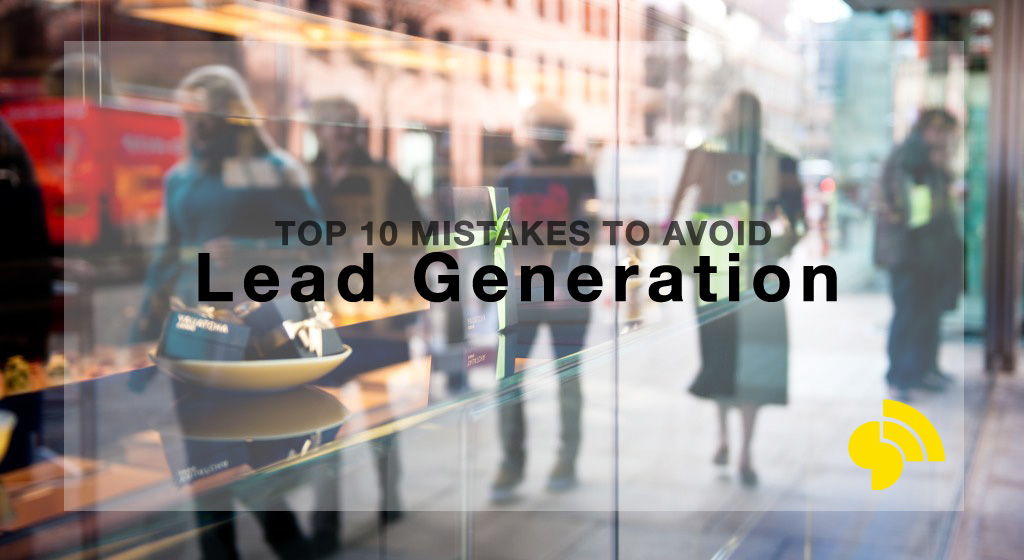 Mistake #1: Losing touch with a lead.
A lot of agents get in contact with a lead only to find out that the person is a long ways off from entering the market. This is true for all leads, whether they gave you a call to view one of your properties, or you met them through your online marketing. Nobody wants to work with "tire-kickers" so they let these ones go unconnected.
Don't make this mistake. There is a difference between a long time-frame and a time-waster. Use technology like email automation, or notifications from your MLS, to stay in touch with these leads without much effort on your part.
When they are ready to hit the market, you will be first on their list.
Mistake #2: Waiting too long before responding to a lead.
Work life can get busy. Between showings, appointments, and negotiations it can be tough following up with inquiries. If a person inquiries with a genuine question, but it takes a long time to respond with an answer, that person very likely found their answer elsewhere in the meantime. They no longer have any reason to be in contact with you, and the opportunity to provide any value is gone.
Having a part-time assistant can make a big difference when it comes to following-up with leads.
Mistake #3: Forgetting to uncover the lead's motivation for contacting you.
We often think that every lead means a deal. But often, their real motivation may be a bit different. We will never know without asking why they filled out the form, called you, or sent you that email.
When you find out why they are inquiring you are much more likely to get the sale.
Mistake #4: Treating all leads the same.
If you have a marketing campaign running, such as a Radio Ad or Facebook campaign, because your first contact will likely be by email or phone it's easy to get caught in the trap that all these leads are the same.
However, these are all real people that are reaching out to your marketing offer, each with individual needs. Use the communication you have with your lead to create a tailored response for each one. If for some reason you can't get in touch with a lead, that's when it's a good idea to use a broad follow-up response.
Mistake #5: Overloading the lead with too much info.
You're an expert at real estate. Most of your leads are not. A little bit of information goes a long way when helping people buy and sell homes. Keep your emails short. If you have a Buyers or Sellers package, wait until you've had a couple conversations with them prior to sending it their way.
Mistake #6: Really long email signatures.
We're all proud of our achievements. If you want to include these in your signature, include 1 or 2 that really stand out. I've seen many emails from agents and it is common for an email signature to be twice as long as the email content.
It can be hard for the reader to distinguish between the content and the signature. This makes an email seem intimidating to a reader. Also, it is very unlikely that your recipient will read your entire signature.
Often long signatures can come across as "salesy" and may turn off people before you've had an opportunity to meet them.
Mistake #7: Providing value for a while… then stopping.
One of the biggest value-drivers you can build in your business is your lead list. These are people that you stay in touch with weekly via email. You may have never done a deal with them, but as you keep sending them emails, you will.
Leads go through "peaks" and "valleys" of interest. A valley can last months to years. So keep sending those emails and your monthly deals will keep growing.
Mistake #8: Not explaining next steps.
It's easy to have a great conversation with a lead and forget to outline the next steps. Outlining "next steps" create a reason to have the next phone call or to send follow-up email.
Also, from your leads perspective it is nice knowing what to expect for next steps. You appear very professional when it's clear what will happen next.
Mistake #9: Not getting leads on an email campaign.
Leads require nurturing. People new to lead generation often expect that they will pick up the phone, call their lead, and have a new client waiting on the other end. While that happens occasionally, veterans at lead generation have learned that leads require nurturing.
After providing value and having an initial conversation add all of your leads to an email list. You may be surprised who you end up doing a deal with. Sometimes you will have written off a lead based on the first conversation and then 2 months later they give you a call about listing their home.
Always add every lead you have permission to email to a weekly campaign. Here's an article that explains how to do this for Seller leads.
Mistake #10: Not doing everything you possibly can to get in contact.
Calling a lead once and leaving a voicemail rarely turns into a contact. Make it a habit to do what ever you possibly can to get in touch with that lead. Call them, email them, text them. If you cannot get in touch with them and you have permission to email them, add them to your email database.
Bonus Mistake: #11: Not providing value.
Often times we think that a lead needs to be a qualified buyer or seller today before we are willing to provide value. This is a huge mistake.
Today's market place is driving by a value-first mentality. Furthermore, the easiest way to build trust and add credibility is by providing value to someone else free of charge. If you are afraid that it will lower your value if you provide work for free – know this. Instead of lowering your value, it bolsters it, because you are letting your leads know that you value them. Today all professionals are doing this. Lawyers to Accountants to Realtors. It's the best way to do lead gen.
Action steps:
If you have any comments, suggestions or ideas about how to do lead generation, share them in the comments below. Make sure to checkout StreetText's lead generation software, we're a friendly bunch and are working hard to provide great value to you and to our clients.
Want to know how to generate leads online? Click here to read a tutorial explaining how.