Earlier this month, we posted an article explaining How Janki Patel Fixed Her Lead Generation Problem with StreetText.

We learnt that the secret to getting started is really all about mindset. Janki had come from a background of contribution, and knew that she needed to work hard to see the results she was looking for. When she started with StreetText just over 1.5 years ago, she started working on a strategy that would help her find success. Just a short time later, Janki's team has already closed on a whopping 50+ additional deals from Facebook Ads on StreetText, with many more deals in the pipeline (as of Dec 2021).
Let's dive into Janki's process: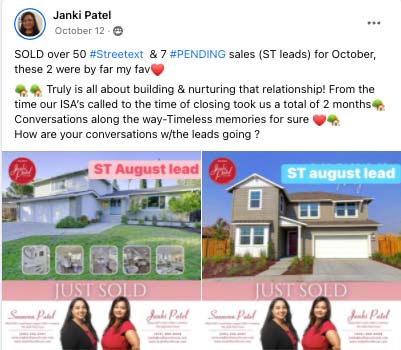 Janki got started by utilizing StreetText's built in Automations that help start conversations with leads that came in from her Facebook Ads. With the help of her coach, Markus, she set up a default process that entered leads into a 1-3 month drip campaign which consisted of both automated Text Messages and Emails.
After her leads entered her funnel, she started picking up the phone and following-up with every one of her leads. Janki found that every lead in her system was important and required a bit of nurturing before they're ready to convert. She realized very quickly that she wouldn't be able to do it all on her own.
Early on, Janki thought: "Boatloads of leads were coming in, and I thought, how do I control these leads? There's no way I want to stop these leads from coming in… So that's when I started thinking about hiring my first virtual assistant, my ISA"
Janki first started seeing the leads coming in late March, and by mid-April she decided to hire her first ISA. A few weeks later, she started converting at a very high level.
"When I hired my first ISA, he was just cold calling and I was not really seeing any results out of it. I said okay, let's pause, let's see what is the issue here"
Janki likes instant gratification, and when she didn't get that, she had to decide at that moment, what is it that she can do to really have success?
"I started really diving deep into role play… and writing my own scripts really of everything that I learned over the years, every coach that taught me about scripts, my own coach, my networking groups that I went to. I started digging old files and seeing different kinds of scripts, and I started really manipulating them, making them more geared towards online lead generation, and really asking 'what are the key questions?' "
Janki starts by offering a market report around each lead's neighbourhood; then asks "Do you see yourself moving in the next year or two, and when might that be?".
The key is offering something to help motivate them to list or buy with you, and then evolving it into a conversation, always coming from contribution. That's when she started seeing a high volume of conversions happening, and hired her second ISA only a few weeks after the first.
Curious to learn more about Jankis tested, tried & true systems? She recently launched a Conversion Academy course available to StreetText members. Check it out here!
Janki's first listing came at the end of April 2020, just over a month after joining StreetText, at the height of COVID-19.
"We did a Zoom call and they really liked what I had to say and they showed me their home through Zoom. That's when my first listing came, and year-to-date total listings of actual buyers and sellers that I've closed with StreetText is a whopping 25 (as of March 2021) – and we have got 3 listing appointments that we went on last week, one of them was through StreetText which we just signed and I'm going on two more listing appointments this week which is also StreetText!"
Jankis advice for new Realtors just signing up or struggling to get started?
"Please be patient, please have a mindset of a sponge. Please be open-minded, learning based, and don't be an instant gratification type of person (like me), because even if you are, this is going to take time. Don't give up on StreetText because it is an amazing company with amazing people, and they do everything and anything to improve their systems. Look, I speak from my own success. This is my review for them. It did take me time. It took me a month and a half to really get serious with what I wanted to do, especially during COVID-19. But, like I said, if you take time to really step back, and focus on your mindset, focus on what you're going to say in your scripts and your dialogue, the business will automatically come to you."

"The StreetText community has supported me and is really giving me ideas of how to run my business. I think it's so important to stay focused, the negative mindset that I had, and now I see myself being one of those leaders helping other realtors and attending these Masterminds. It's not about boasting. It's about sharing. It's all about coming from contribution."

"The StreetText insider community is just such a great community of realtors coming together, sharing what has worked for them, and sharing what hasn't worked for them. And I think if we continue to keep this momentum, this collaboration going, I think it's going to be really fantastic, not only for the community, but for the realtors that are really looking for success; and for having such a successful lead generation happen in their business. Come with a positive attitude, and come from contribution to build those relationships with those other realtors. You never know, you might get a referral one day out of it!"
For single agents who don't have the means to hire a team of ISA's?
"I'm not going to say have a positive mindset, because that's a default. But really look into yourself and see what's your big why, and why did you sign up with StreetText? If you did not want the influx of leads, then why did you sign up with StreetText, number one. Now, you're always going to have the leads coming in. What do you do next? You're a single agent. Where do you go from here?"

"What I say to you, is to take 10 leads a day and have 10 conversations a day. The next day, take 10 new and 10 old, and when the leads do come in, sit down, take an hour out to put all of them into a drip campaign, a smart plan, and your CRM. Or, just ensure your StreetText automations are set up to send them an email from you every couple of days, so you're in front of them. And send out a newsletter, if you can, once a month, or once every few weeks. You want to be in front of your leads all the time."

"I strongly suggest you incorporate an automated welcome BombBomb video or just a welcome email that goes out to them the minute they come in as a lead. So you want to be able to touch them immediately, and then after that, a few days after that, touch them again. So just keep that in mind, follow-up is key in our business, and coming from contribution is the next thing. So what do you say, how you say, and to how many people you say it to, is going to be very, very important. That's my take away and my lesson to give you today."