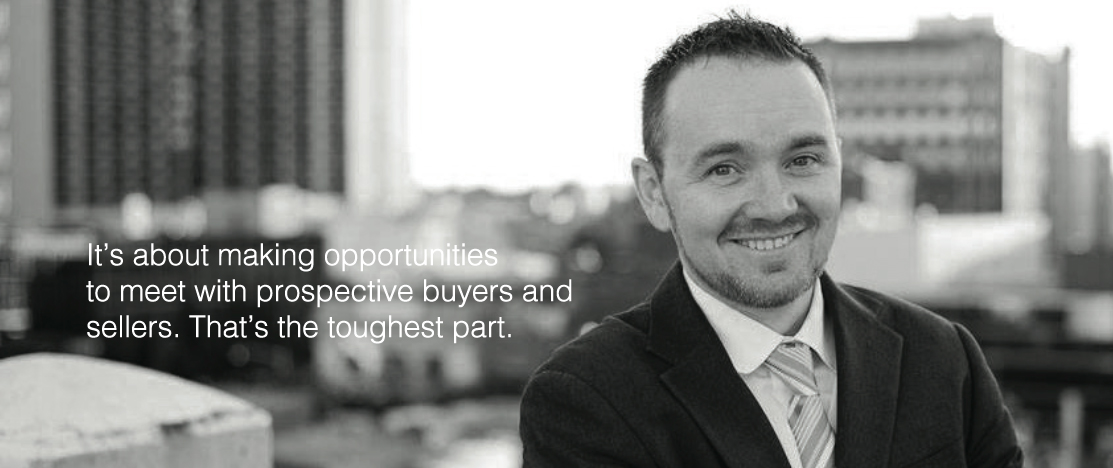 "I am thinking how I want to build and define my business, how I can be a good father, a good husband and a good friend, and how to be an excellent agent for those that choose my services."
Isaac Verge, Vision Realty Windsor
He was rookie of the year, number 2 in his office in his second year, and Top Producing Agent in his office every year since. Jonathan Whiting talks to fast rising Windsor Essex Realtor Isaac Verge, about his business past, present and future.
Let's get started, how long have you been a Realtor?
"This is my sixth year, I started in September of 2009."
What was it about real estate that drew you to it?
"I'd been in sales and marketing for a long time, had my own marketing business. I enjoyed it. At my peak we had 60 employees. After a while it got to be demoralizing because it was impossible to please everyone."
Isaac and his wife Lisa were selling their home at the time so that Lisa could go back to university. That was when Isaac met a service-oriented local agent and the experience ended up planting a seed for Isaac about the idea of becoming a Real Estate Agent himself.
"We ended up hiring a really good agent, it was painless." In the end Isaac explains, "That's when I got interested in Real Estate Investment and it seemed like a really cool way to make a living."
You rose through the ranks early in your career, how did you do that?
"I mentioned the agent that planted the seed for the idea of becoming a Realtor. I had a good business and was making a good living. So I wanted to make sure I had all the pieces in place. I hung out with him, did some shadow sessions and sat with him at an open house, to get a good idea of what the business is about."
"When I started I went to the brokerage that he was at.  I made a deal with him. In exchange for access to every piece of marketing he ever did I offered 25% of whatever deal I did. I could ask him, okay now what do I do here? There's a lot of good value in the education of the course, but it doesn't teach you how to go up to someone yourself and offer some sort of value proposition. So from September until March the following year he let me work him until I felt comfortable branching out."
I haven't heard of many agents doing this strategy, what inspired you to take this approach?
Isaac accounts the experience he learned from his mentor as a valuable foundation for his future success. "There's a thought that I hold, you are better off imitating before you innovate. At first I didn't know what I am doing so why don't I do exactly what he's doing. I learned pretty quickly that a lot of the top agents are all good people and are pretty busy. I would ask them if they had any tips for the new guy, and a lot of them surprisingly said 'No, I work very hard for the info I have and I don't want to give it away.'"
Isaac however takes a different approach. He's a bit of a mentor at his office, often sharing what he's learning and finding valuable. As he says, "There are 800 agents in Windsor Essex, with the number of home sales per year, there really is enough to go around."
What inspires you to keep learning?
"I am always trying to pick up different strategies. It keeps me hungry and it keeps me going. I know what the number one person does in Windsor Essex and until I am there, there is something to learn. I am thinking how I want to build and define my business, how I can be a good father, a good husband and a good friend, and how to be an excellent agent for those that choose my services."
When you come across a strategy that you want to add to your business, how do you go about adding it?
"I try to put things into systems. I've tried farming because I heard it was good – and I know it is good – but I don't have a system there. There is no doubt that an agent that implements every single thing in a book like The Million Real Estate Agent they will have a million dollar business. But I want to make sure that I only add one more scoop on my plate so that I make sure I can eat it."
"People move on average six or seven years, and when asked 9 out of 10 say they will use the agent that they last worked with, but 3 out of 10 actually do. I wanted to make sure it was a business that I was building and I wasn't just chasing after clients to make a sale."
"I now have an assistant who is like minded in service, who was a client first, and her responsibility is to make sure that certain things happen at the same time every month and I don't have to think about it."
What's the latest strategy that you've added to your business?
"I've transitioned how I handle leads. Now I send leads to my assistant who does the follow-up call and sets appointments. After being so busy for the past 9 months I hit a natural lull and setup an account with StreetText to generate leads. At first I was diligent with the leads and got face-to-face time. But then my follow-up would drop-off. Fortunately I was able to see some real success in it that it justified in my mind that if I can make this work with my schedule, then it's worth it."
"Because my assistant handles the follow-up calls, it's a system now, it's digestible. In the call my assistant explains that it's a call on behalf of Isaac Verge's office and she reinforces that it's a business and they are not just trying to make a quick sale. This builds trust with the client."
"That's what it's all about. It's about making opportunities to meet with prospective buyers and sellers. That's the toughest part. And then getting appointments to actually go and see them. Once you get in the door it's about being professional and sincere."
What's a challenge you've faced in Real Estate that you didn't expect?
"A friend of mine would list with somebody else. At first it was hard to wrap my head around because I knew my level of passion and how tough I would fight for them. It's a question other agents have come and asked me about in my office."
"As an agent you've got to be able to find a way to keep your head on straight to represent yourself and your clients at your best. It was then that I realized that many of my friends were thinking, 'what if something went wrong, how would that affect the relationship.' I no longer see it as a negative thing. I've had some friends work with other agents in my office and they've referred some of their friends to me."
What's something unusual that you've seen in Real Estate?
"I walked through a listing a week ago, it was more bizarre than anything. Heads up to Landlords. This may be why it's a good idea to do a walk through prior to a showing."
"I'm walking though this duplex, it's pretty rough with a split basement. There's three pronged plugs every 2 feet. I'm looking around and notice that one wall was shorter than the other three. Wondered why that was. I walked up to the wall and pulled on the shelving unit with paint cans on it. The shelving unit was a secret door on hinges. It swung open and revealed another hidden room area with a heat lamp, water schedule, and hidden grow up. It was pretty odd."
Any last words?
"I just want to give credit to the office environment my broker has created. Everyone is ready and willing to help one another to ensure our clients get the best possible experience. We trade ideas, stories and knowledge at our weekly meetings so that we can all be better every single day. My attitude is that you get more by giving so nothing I do is secret. If you want to know just ask. Jeanette has managed to find and hand pick a good group of agents and support staff that seem to think along those same lines. It's competitive but the competition is never anything but positive and encouraging. It's a great team to be a part of."
Isaac Verge services Windsor Essex, Ontario. You can learn more about Isaac Verge at his Facebook page here.