"We actually just did our numbers. 15-20% comes from StreetText. That's why we love it, that's why we keep putting more money behind our ads."
Matthew Nicolas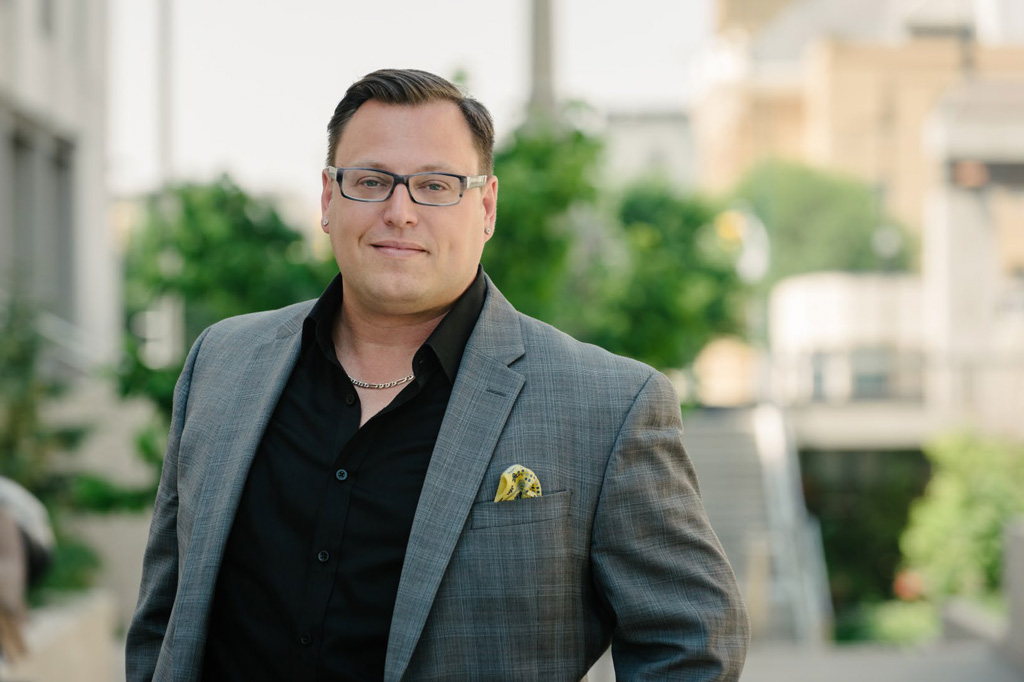 With 200 transactions under their belt last year, they are one of real estates fastest growing teams. Matthew Nicolas and his team are all-stars, in every sense of the word. But they are also just regular down-to-earth people. He's a giver, having freely shared many of his marketing techniques with Realtors across North America, and also an incredibly positive person.
In our last interview we learned that they were on track to grow their business another 25%, you can see that interview on Top Producer CRM here. Now, one year on, our Co-Founder, Stephen Whiting sat down with Matthew again via a Google Hangout Webinar to discuss the Facebook lead generation strategy that they are using to help fuel their growth.
Getting to over 200 deals a year with Facebook lead generation
Stephen – "Before we jump into your Facebook Strategy, let's learn a bit about you. You've been in the business for a few years, and last year you were named one of Canada's Top 100 agents, is that correct?"
Matthew – "Yes, this is my sixth year. In that time we've doubled our business a few times. It's been a really exciting road."
Stephen – "That kind of growth could be hard to sustain, but you seem to be thriving. From zero to more than two-hundred transactions a year, what was the most important thing you did to get you to the volume you do now?"
Matthew – "It's the systems. They created efficiencies and leveraged our time. Without systems, we fall apart. And we've gone through that too. Where we've tried to jump a little bigger than we should and couldn't manage that level because we didn't have the systems in place."
"Without systems, your head is spinning, you don't know where you are at. Having systems allows us to focus on just 4 things: repeats, referrals, mega open houses, and online lead generation."
Stephen – "Today we're going to talk about your online Facebook lead generation with StreetText. What percentage does StreetText represent to your business?"
Matthew – "We actually just did our numbers. 15-20% comes from StreetText. That's why we love it, that's why we keep putting more money behind our ads. We like how it functions too."
"There's a two-pronged benefit. You are going to get business from StreetText and you're also going to close more business if you're letting more people know you understand how to market on social media and how to capture leads from it."
Stephen – "With so many leads, how do you find the time to respond to every one?"
Matthew – "How we find the time is the systems. Every time there is a way I can automate something or have someone else do it, we implement that."
Stephen – "What was the thing you implemented that really helped you leverage your time?"
Matthew – "It was Top Producer CRM. I use Top Producer with StreetText and it's worked really well for us. It helps us manage the leads."
"It takes time to build a database, but it's all in the database. Get your leads into your CRM, put people on a campaign, and just keep dripping on them."
"You've got to try to automate as many things as you can. See if your office has a postcard mail-out service. Try to systemize things as the best you can because if you're trying to do everything yourself it can get unwieldy and you just start falling apart."
Stephen – "It sounds like staying organized with good habits is freeing up your time."
Matthew – "The first system was to make a habit of putting new people that I spoke with into the Top Producer's database right away. So we can start doing email campaigns and things from there. Now if I'm out on a Sunday and I put a bunch of names in from an open house event and then forget a name, I can just look it up."
Stephen – "One last question, anyone who follows you on Facebook will know how positive you are. How do you stay so upbeat?"
Matthew – "I try to be a positive person every day. I think that every day we get a new chance to start over and do things better than yesterday. First of all, I've got a great team around me and I've partnered with some great companies like StreetText."
How to run Facebook lead generation on StreetText as a proven way to reach new clients.
StreetText gives you proven Facebook ads and funnels you need to capture and convert Home Seller and Buyer Leads. Marketing is probably one of the most important jobs that need to be done as a real estate agent to grow, if not the most important one. But, it takes a lot of time to and knowledge check in on Facebook ads to ensure they are getting the results you need. StreetText setups and manages your Facebook ads for you, so you can get back to doing what you do best – creating relationships and closing transactions.
1. How does StreetText Facebook lead generation work?
StreetText's Facebook lead generation works by running your advertisements on Facebook's news feed. StreetText designs, sets up and manages all your campaigns for you.
Interested Facebook users then click on your advertisement and are taken to your StreetText funnel where they provide their contact details in return for information from you.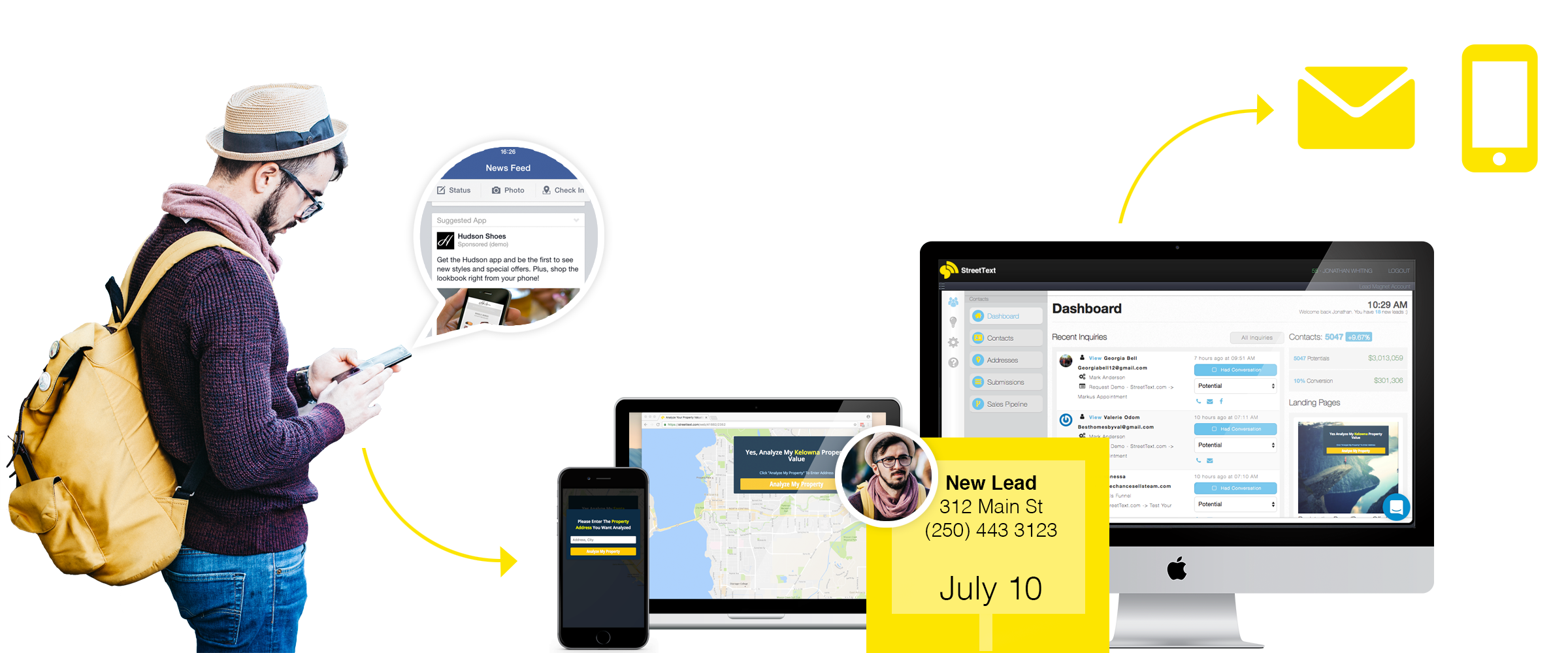 Don't know what to offer to attract clients in your neighbourhood? Don't worry, because StreetText will walk you through the best performing campaigns on Facebook.
2. Why should I be advertising on Facebook?
If you are looking to grow your business now is the time to leverage Facebook Advertising. By leveraging Facebook you can target the right people with the right message.
There are over 1.86 billion monthly active Facebook users. With the majority of users over the age of 25.
25-34 year age range: 24.4% of users
35-54 year age range: 31.1% of users
55+ year age range: 15.6% of users
This means that 80% of your target neighbourhood and market are actively on Facebook. Never before has any advertising media allowed you to reach (and target) this many people.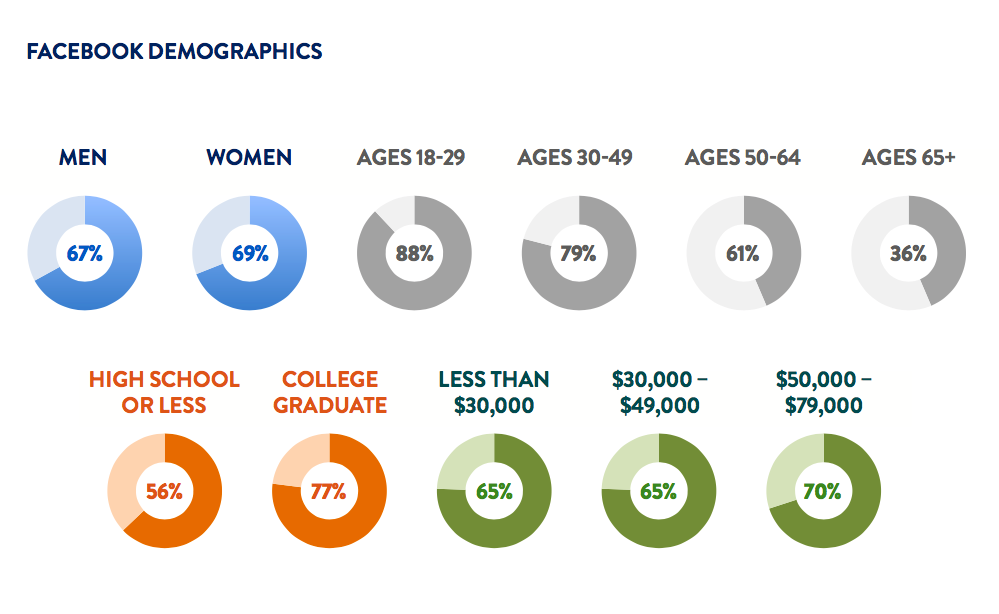 3. After setting up a Facebook lead generation funnel, what do I do next?
Now you will need to respond to your leads. First, you will want to reply with the offer they are expecting. You can have downloads automatically sent to your leads via StreetText.
If you are offering a custom report or personalized list then it's best to reach out immediately letting your leads know that you are on it. Even if you're busy with appointments over a weekend, your prospects are happy knowing you have reached out to them.
4. Connect StreetText to your Top Producer or other CRM
Systems make managing a lot of leads much easier. Connecting StreetText to your Top Producer or other CRM is easy to do and takes less than 5 minutes. But it will save you many hours in the future.
5. Add all your leads to a drip-campaign
Here's how Matthew Nicolas explains why he adds all his StreetText leads to marketing automation.
"Through the research we've done, we've found that most internet leads are about 280 days out. So you do need to have those systems in place to keep the touches going so you can convert. Even though we got 20 leads last month and we listed 2, we know that we are just scraping the surface. We've only grabbed the low-hanging fruit. We know there are still 5-10 deals in there, but they are justing coming later down the road." Explains Matthew.
Matthew doesn't just send emails. He also sends a mailout to every new lead that comes through. Going above and beyond sets Matthew and his team apart in the eyes of his prospects.
6. Learn from the best practices and share with other smart agents like yourself
StreetText Facebook lead generation takes digital door-knocking to a whole new level. We find the people who are interested in listing or buying in your market. They may be one day out or they may be one year out. However, it doesn't matter how qualified a new prospect is as nothing will happen unless you can win an appointment. Real estate is a relationship business.
Fortunately, StreetText provides webinar strategies and an Insider Group community that connects you with the agents who are great at winning appointments.
Here's what Matthew says when he's prospecting. "We're trying to build a relationship, again we don't know these people. If we just got an address and knocked on the door and said hey, 'I'm here for the walkthrough.' People would say, 'what are you talking about?' Conversely, if you get a phone number and immediately call them, 'Hey, can I come for a walkthrough?' You're missing a step. Upon each lead, you've always got a goal."
Matthew continues, "If you just get the address the goal is to try to make some kind of contact with them to understand what they are looking for. If you get the address and an email, the email should be to try to book either a call or an appointment. If you get a phone number, start with a text message. We've just found that it works better."
7. Track the weekly performance of your ads
StreetText will send you weekly reports of your Facebook ads. This makes it easy to track your ROI and results of your campaigns.
And you're all set for growth!
It's really easy to get setup with a high performing campaign through StreetText. By connecting your account to Top Producer you can ensure you're leveraging your time efficiently to grow your business.
It's easy to set goals to grow, but without active advertising that works and a good CRM, it's just as easy to get overwhelmed or find your goals slipping from your reach. Matthew is reaping the benefits of a system without losing any of the important and personal touches his future clients need. As a result, his goals are insight and achievable.
Are you ready to reach new clients in your Neighbourhood on Facebook?
Test your market today in just 7 days on StreetText
StreetText offers a FREE 7-day market test, you only have to pay for your Facebook ad spend. You will get a proven Facebook Advertising and Capture Funnel setup for you. Access to the StreetText backend. One-on-one phone consultation with a Facebook conversion expert to go over your ad and results. And most importantly, you will get to see how many addresses and leads you can generate in your market for $9/day.
Start your 7 Day Market Test and reach new clients on Facebook today!