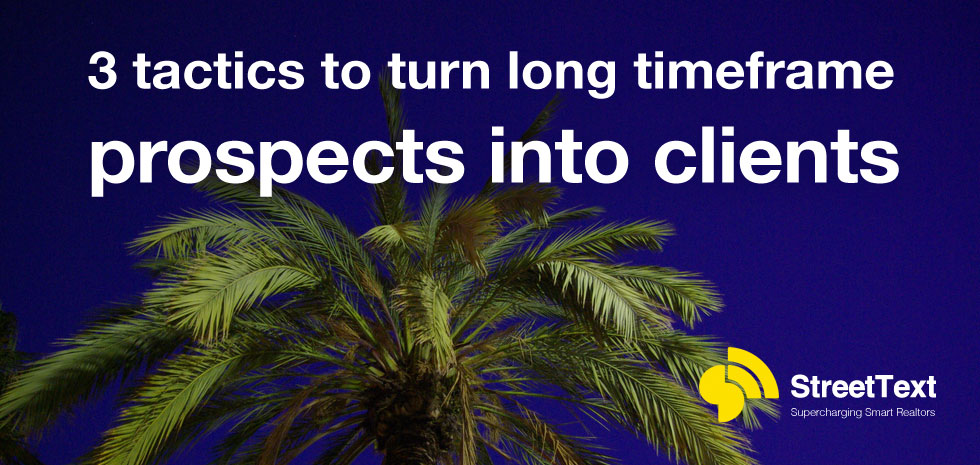 Let's face the facts. Many leads have long timeframes. Months before they are ready to buy or sell, people start educating themselves about their housing market and their options. If you are a smart agent you will have a system to capture these "early stage buyers/sellers" and turn them into prospects. This may be how you found your prospects.
A common scenario I see are Realtors who have only a few leads that are ready to act today, and lots of prospects that may be ready to act in the next 3-6 months.
According to NAR's statistics the typical Home Buyer and Seller take several months to decide to buy/sell. That plus the time it takes to find or sell a home. This means the average real estate prospect will take 4+ months to mature and turn into a deal.
If that sounds about right, below are some great tactics to ensure your prospects convert into your clients.
1. Be present in their journey.
This tip has been beaten to death, but it's because it is important. Add all your prospects to an email newsletter. Tools like Mailchimp and Constant Contact are great for running these campaigns.
2. Ask your prospects questions in every email.
99.9% of Realtors don't do this, but they should. The reason is that you can get valuable insight into how you can help your future clients more. For example, at the beginning of your email you could write something like this. "If you would like a semi-annual update of your home value, let me know." Or, "I'll be happy to provide you a monthly list of homes that are in your dream location with a realistic price range, or anything else that you need."
You will be pleasantly surprised how a different question will help you find what stage of the buying and selling process your prospects are in.
3. Help your customers first.
Earlier this week I was speaking to a gentleman who was a Realtor for 13 years. He had some fantastic stories and in one of them he described how he met a FSBO and got 5 deals from them. He was visiting his mother when she mentioned that her neighbour was selling their home by themselves. Being a nice person he went over and asked how things were going. "Very well they replied, we've already had 3 offers." Wow, he thought, that is good. So he offered to look at them with them. That's when he discovered that they had counter offered to all three. To make a long story short, he saved them from a potential litigation suit and ended up with 4 more deals from their family.
He told me he would never forget the lesson of offering value for nothing.
Let me know your thoughts and experiences in the comments below.