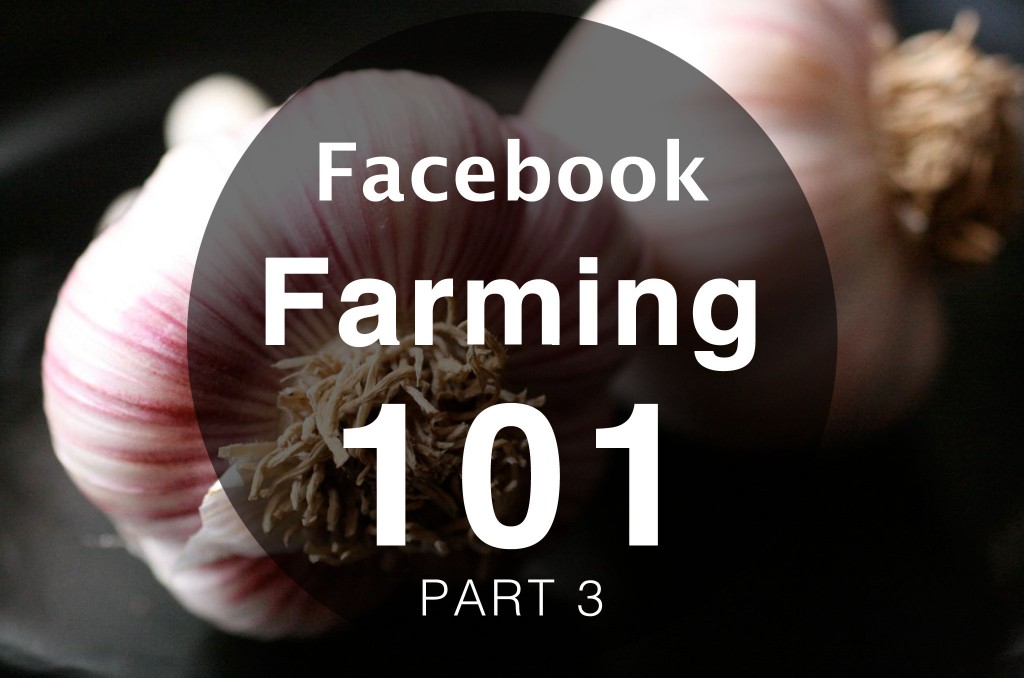 Facebook Farming 101
Part 3: How to Create an Effective Follow-Up System To Convert Leads to Clients
How To Create An Effective Facebook Farming Follow-Up System – Part 3
Welcome to Part 3 of the series teaching you how to do effective Facebook Farming for real estate. In part 1 you learned how Realtors are dominating their markets with Facebook. In part 2 you learned how to generate business with Facebook. Today you will learn how to convert your Facebook leads to clients.
Let's Get Started 
The most effective Realtors at Facebook farming are the ones that setup simple nurturing and follow-up systems. Realtors Isaac Verge and Darryl Reuter attribute a large part of their success with Facebook business generation to their follow-up systems.
"It's about making opportunities to meet with prospective buyers and sellers. That's the toughest part."
Isaac Verge
Introduction
A whopping 80% of all online leads convert during follow-up. The strategies you will learn here will help you convert more of your leads. Even the ones that didn't come from Facebook.
In Part 1 we shared a study with you that showed the exact conversion rate of Facebook Leads and why it is one of the best ways to generate new business today. But here's the crutch. Even though the conversion rate is high, unless you stay in contact with them, there is a good chance your contacts will end up working with another agent. One of the worst feelings is watching a lead you generated working with another agent because "they fell through the cracks".
You've invested the money to setup a system to capture and verify a future buyer or seller from Facebook. But without a nurturing system you may be leaving 80% of your deals on the table. It would be like a farmer growing a crop, harvesting the first day of the season, and then leaving all their remaining produce behind for other farmers.
Business Generation Formula
As a Realtor you know that to grow you need to generate business. Business generation is made up of two parts.
Lead Generation:
Lead generation is about growing your database of prospects. This could be your database of Buyers, Sellers or both.
Lead generation can be done through advertising such as Radio Ads, TV Ads, Print Ads, Listing Inventory, Neighborhood Farming, Facebook Farming, etc. Some of these methods are more effective than others.
Lead Conversion:
Lead conversion is about turning your prospects into clients.
How to setup a system to nurture leads and increase your conversions
Most online leads are in the discovery stage. This is important to understand when setting up your funnels and nurturing systems.
Statistically, 70% of all home buyers and sellers work with the first Realtor they meet.
The aim of lead nurturing is to keep yourself top of mind and your leads engaged. That way, when they are ready to meet with an agent, the person they speak with is you.
Darryl Reuter is implementing this follow-up strategy from his Facebook leads and his business is growing rapidly. In this year alone he added an assistant and a buyers agent.
His strategy is simple. He sends weekly lists of properties to his buyer leads. When he first gets his lead he gives them a call to see that they got what they needed and whether they they would like to narrow their property list down. This creates a conversation and builds trust. If he cannot get ahold of them, the weekly property list emails continue.
As the leads move from the discovery stage to the "interest stage" they contact Darryl asking for more information about specific properties.
As his volume of leads increase so do the number of these inquiries.
He is able to turn these inquiries into meetings by inviting them to his office to discuss their needs. Finally these turn into his clients. He does this week after week.
You can see why Darryl's business is growing so quickly. The strategy involves 2 key ingredients. Consistent leads and consistent weekly emails. By leveraging his local MLS and StreetText technology he is able to ensure that these 2 key activities are done well without much work on his part.
Here's the full list of follow-up and nurturing activities in a list:
Send an email to each lead inquiry within 5 minutes. StreetText does this automatically for you.
Call each lead within 12 hours of their initial inquiry.
Add each lead to a weekly email list.
Send an email to this list, week after week, without fail.
Respond to any follow-up emails and calls generated from the weekly emails.
Use follow-up calls as an opportunity to book consultation appointments and convert the lead to a client.
4 tools to help you setup this system
MailChimp is an email marketing tool. It's simple to use and allows you to have up to 2000 contacts for free. We have some templates that will make it easy to get started with MailChimp.
Your private MLS. Most private MLS's allow you to setup property lists that get sent week-after-week without fail. This is a great tool to help with lead nurturing.
LeadAssign is a lead distribution tool. It makes it easy to distribute your leads to members of your team. You can set time limits so that if a lead is not contacted within a certain period of time it will automatically be sent to the next agent in your team. That way you know that all your leads are being taken care of.
StreetText is a lead generation software. It makes it easy to manage your Facebook business generation. When you are ready to get started it's quick and painless. The StreetText team will have your Facebook ads, landing pages and forms up and running within 48 hours. StreetText also provides templates for MailChimp and its lead notification emails integrate with LeadAssign.
The Secret Ingredient
Each of these new clients have the potential to turn into repeat clients and additional referrals. By implementing lead generation and making it part of a "whole" strategy, your business will grow even more. In my experience it takes about 3-4 months to see an initial ROI, but then it grows from there.
Summary
Now you know the tools and strategy to effectively grow your business with Facebook farming. It's incredibly powerful. Marketing expert Gary Vaynerchuk said this about Facebook, "Facebook ads might be the best digital ad product I've seen in 10 years. I'm completely obsessed with them. Targeting to a specific segment using creative that is specifically built for that target is something I'm incredibly passionate about, and I think Facebook delivers on it tremendously."
In Part 4 of this series we will be looking at 2 case studies of Realtors that are using Facebook to drive the growth of their businesses.
Good luck as you grow your business.
Facebook Farming 101
Part 3: How to Setup a System to Convert More Facebook Leads to Clients