StreetText just made it easier than ever to upload and launch video ads to Facebook and Instagram.
Here's a quick overview of how to simply launch a video ad from within StreetText.
👉 Head on over to the Launch Ads menu and click it to the load the available ads.
👉 After the page loads, click "Video" under the filter options. Now you will see the available video templates.
In this example I'm going to select the Remarketing Video Ad (custom objective).
👉 Next you have the option of uploading a video or choosing one you've previously uploaded. I'm uploading a vertical format video.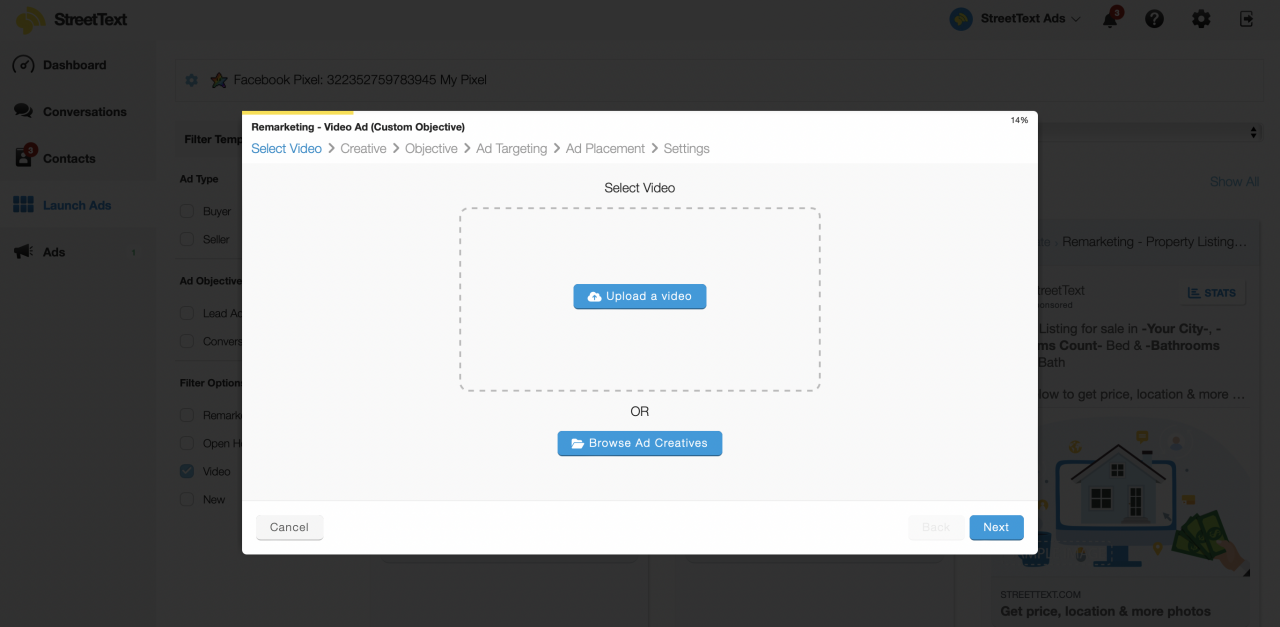 👉 Now you can select an auto generated thumbnail or upload your own.
👉 You can pick your objective, destination, and call to action.
👉 Next, pick your audience.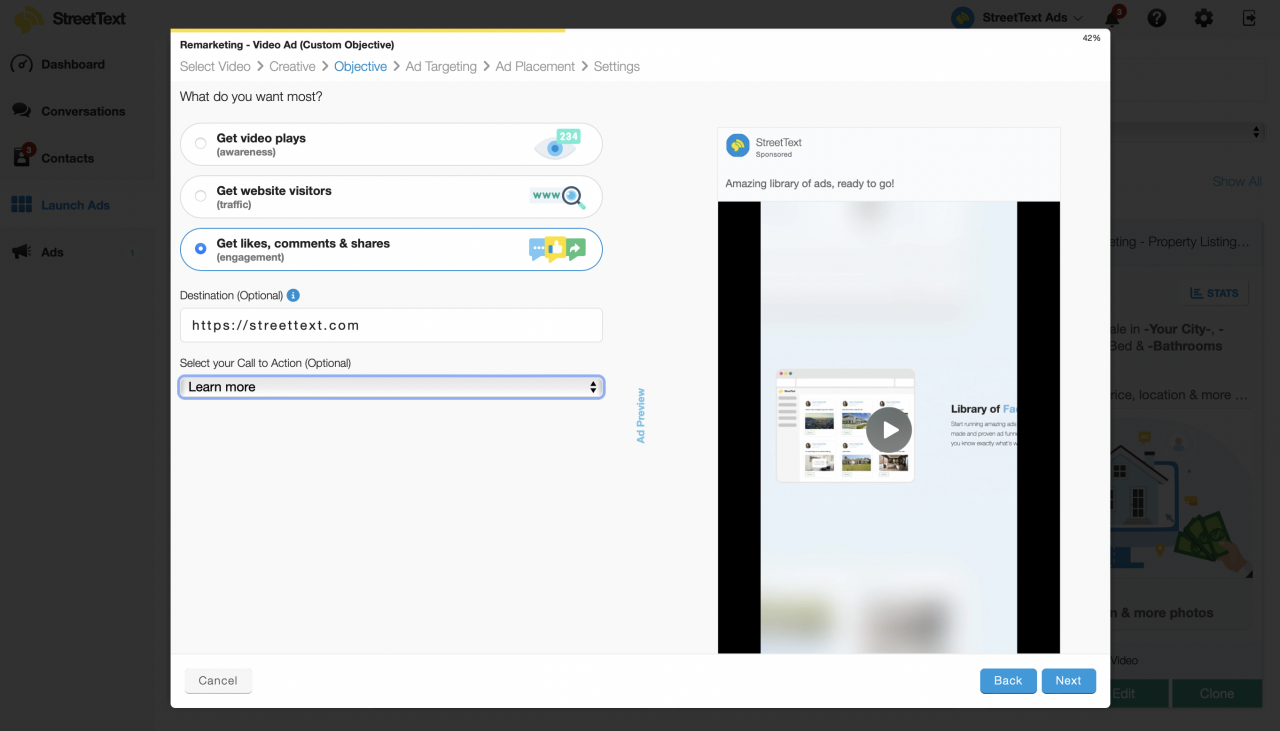 This is when it gets fun :)
👉 Now it auto selects the placements where it is going to perform best, based on the channel, dimensions and length of the video.
👉 Enter your budget. It's a remarketing ad, so $1 a day will be fine.
And click deploy.
And that's it! That was easy, right?
StreetText will now create the video ad and deploy it to your Ad Manager. Optimizing it for the Meta channels. And putting it in the right placements.
Here's a few of our favourite things
There's a library of ad types to choose from.
Easily launch Meta video ads that invite viewers to submit a Facebook lead form.
Or choose an objective specific for videos, such as get more plays.
Each video you upload is added to the library. So you can easily find and reuse them.
Looking for more ideas of what videos to make?
StreetText has a library of awesome PDF ads. All of which are perfect to make into videos.
Choose one of the PDFs, such as the "12 tips to prepare your home for sale." And then record yourself teaching the 12 tips, using the PDF as your script.
Now you can become the thought leader of your market, easily with video ads.
Bonus idea:
Have you tried the new Ai, Chat GPT? It's pretty cool. Upload any of the PDF content to Chat GPT and ask it to turn it into a custom video script in your tone of voice. Presto! An amazing script for your video.
Then ask Chat GPT to offer other ideas relevant to your industry. And it will :)
Have fun with your videos! We're looking forward to seeing what you create.