Life's most persistent and urgent question is, "What are you doing for others?"

Martin Luther King, Jr.
Real estate has an incredible opportunity to be helpful right now. As Stephen wrote in the comment below. "At a time of uncertainty, people look to experts for certainty. This is a great time to be a Realtor who can provide hope and clarity."
It's a time to help people. And you may be wondering, how do I advertise my business in these times so I can continue to grow my business and serve more clients in my market? If you don't have a digital strategy, now is the time to have one. Never have you had so many people's attention at one time on Facebook. People still have needs and they have more questions than ever.
What ads are working on Facebook, right now?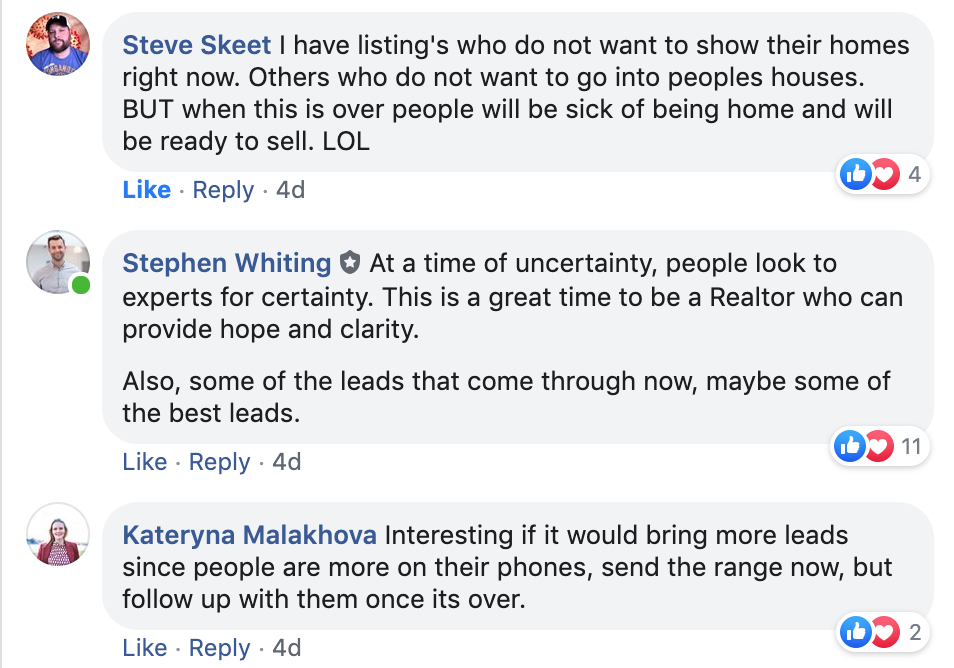 We're seeing incredible results with our ads during this time.
Recently I was asked by someone who manages ads, "What are you seeing that is working on Facebook right now?" Three things are standing out that I'm happy to share with you.
Engagement and click rates are high
More people are at home and scrolling Facebook. So your ad has the potential to have their attention.

As of the latest numbers there's a whopping 2.41 billion people on Facebook. And since 2020 even more people are online.
To get the most success I recommend testing the "What's your home really worth?" funnel in StreetText. It's getting click to contact rate of 67%.
(Below are screenshots from StreetText)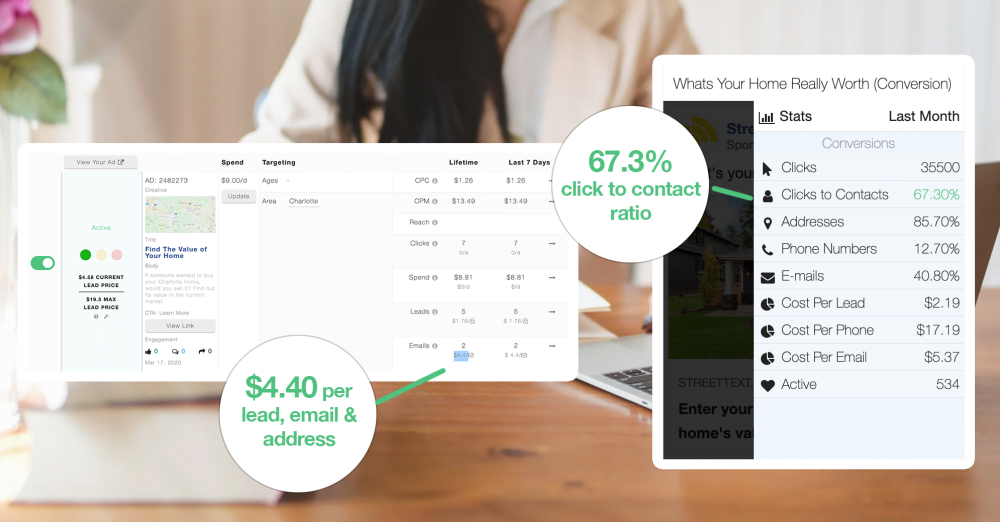 Ads that look native to Facebook are doing better.
Some advertisers are experiencing their ad performance tank. Why's that? Because their ads look like advertisements.
What impacted an ad's performance in the past is amplified.
Native ads are doing significantly better. Images need to be positive, relatable and local. Our map image is performing very well right now. Also, test using an image of a local landmark.
(Below on the left is what's working)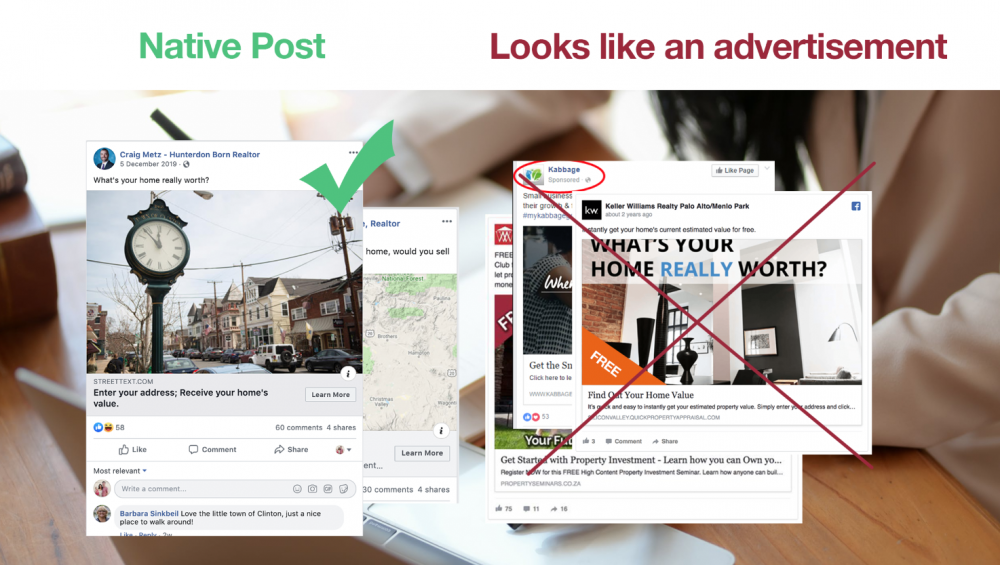 Ads with clear messaging are doing well
It's about being super relevant. People are seeing a lot of posts with sensational headlines. So if the messaging is off, or the creative is off, then home buyers and sellers won't see how it's relevant to them right now.
People still have real world stuff they need to solve right now. And if the message is clear and the image looks native and good quality, it's connecting
Bonus Tip:
When creating new ads to supercharge performance always start with a fresh Campaign, Adset and Ad.
Facebook has said that if you simply duplicate your campaign, adset or ad it carries with it a little of the reputation. So if it was performing badly it carries that over. Instead start fresh.
Bonus Give:
12 deals in 11 Months Digitally Prospecting With StreetText's Seller ad
Finally, if you missed Jessica's webinar with Labcoat Agents, you can find the replay here on Youtube.
Jessica Rae McIntyre is an incredible agent. She's amazingly positive and is leading with her ability to not just digitally prospect but turn her leads into relationships with email.