How well do your follow up systems work? Are you finding yourself falling short, or unable to convert some of your leads? If you are, then you're not alone. Converting leads isn't a perfect science, because there are a lot of factors to ensuring a lead works with you. It depends on their needs, the urgency for your services and even their market. It's hard, but there is one thing that stays consistent in the lead nurturing process. Value.
Providing value is easy for Emily Ching is a realtor in the Vancouver, BC area. We've had the pleasure of chatting with her on numerous occasions, and time after time are inspired by her mentality and persistence to succeed in the industry as well as the systems she's using to grow her business.
Emily stands out as a realtor because of her unique follow up systems. She's able to build lasting connections with her leads and focus more on value than the sale component that agents often too focused on. Let's dive into her story.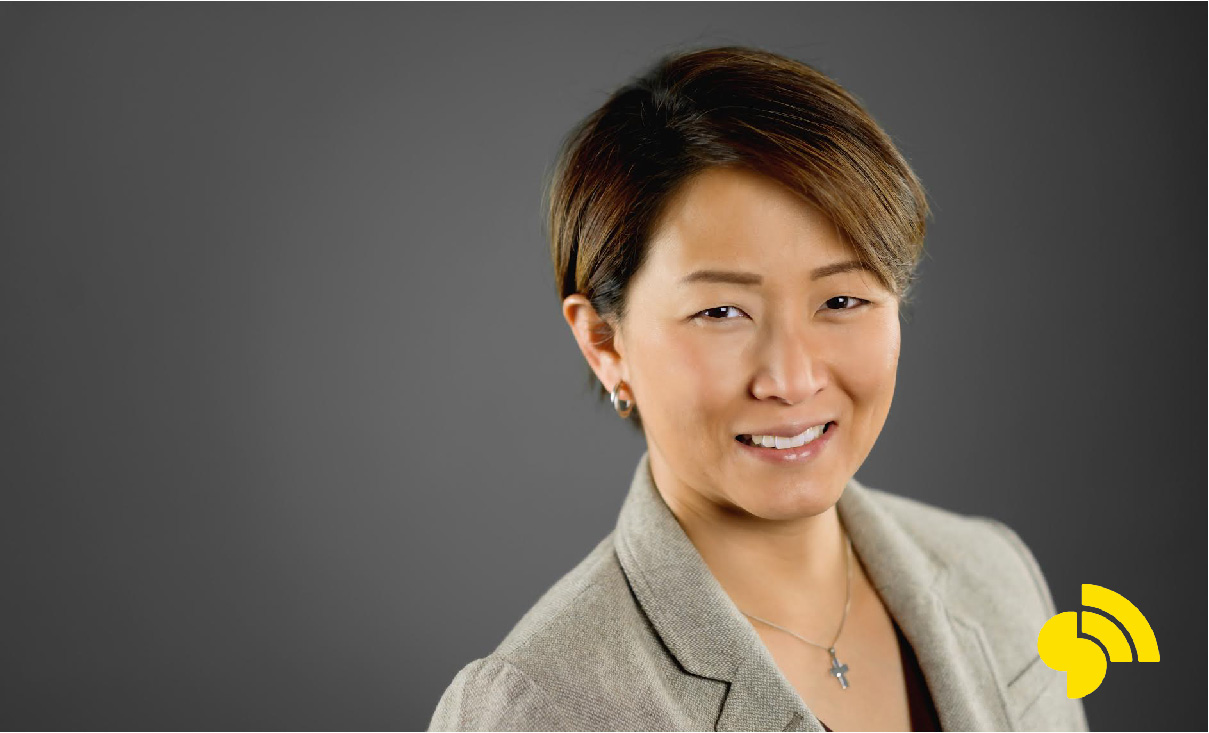 Emily was born in Asia and moved to Canada with her family some years ago now… Making Canada a second home for her, and allowing her to spread her roots in a new area.
She never thought Real Estate would be the path that she took…but she's pleased with what it has brought her in her life.  She mentioned to us that "I never thought I would be a realtor. It happened because I was a stay-at-home mom… and my husband and I needed a double income again." Emily fell into real estate by accident, but that doesn't mean she doesn't have the talent to back it up. Emily was previously running two of her own online shops where she sold baby apparel and merchandise for parents. With that as experience, Emily has a head start to the real estate game because she had a well-versed knowledge in online marketing.
"My husband is in architecture and we knew that we wanted careers that complimented one and other. Real Estate made sense."
With having the experience she did from her online presence, Emily jumped in full force into Real Estate and hasn't looked back since. The hours were adaptable, and she could work with her kids around and it be a non-issue. She continued by explaining that, "the first three years were a struggle!" Because Emily didn't grow up in the Vancouver area, she didn't have the same sense of community, or knowledge of the area as some realtors do. Since Vancouver is a large city, with plenty of small communities around the city centre, there was a lot to keep up with.
Emily was struggling with knowing her area, being an expert in her market and trying to gain new clients – It was getting frustrating for her. She had tried Facebook on her own to no real avail and worked with a lead generation company who provided little to no value for her.
This is when she decided to sign up with StreetText for some marketing and ad assistance. "I got tired of prospecting. I got tired of people who don't need the service. I wanted to hire a lead generation company who would provide me with leads to find people actually raising their hands ready to sell or buy."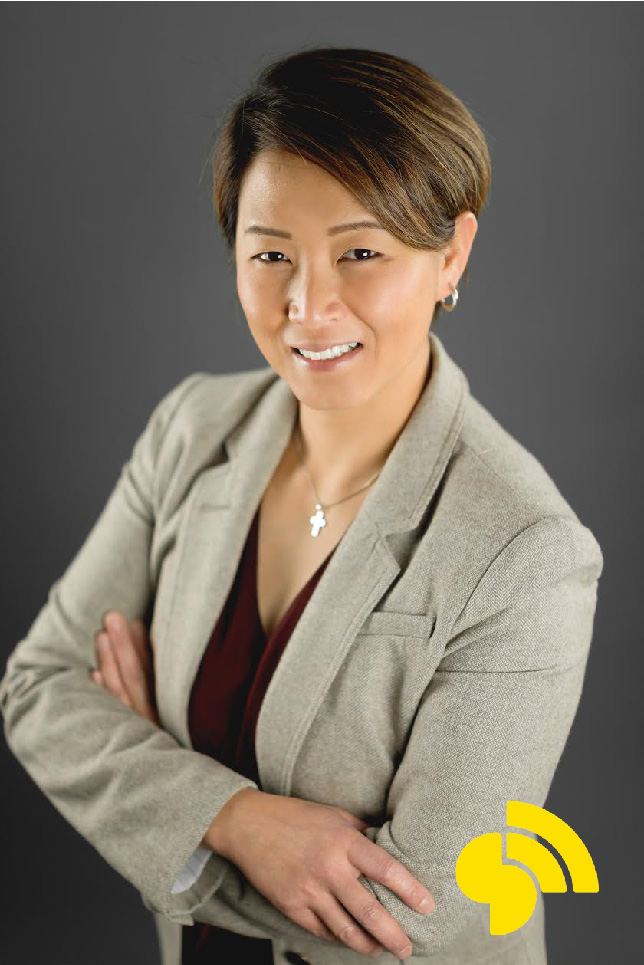 To make the most of the seller and buyer leads Emily has coming into her account, she works with multiple follow up systems she's personally created. She said that "I realized that in some cases, it's a long-term game. I knew I had to develop good relationships before I could turn anything into a transaction." To aid in this long-term plan, Emily has several drip systems, as well as campaigns for her leads.
Emily is unlike a lot of realtors in this sense. She continued to explain to us how valuable the relationship with her leads was because at the end of the day people need to trust who they're going to be listing their home though, which is why she sends them information with plenty of value. Too many real estate agents focus on the sale or the commission and the end goal and forget about the client. Emily takes the time to understand, appreciate and value what her clients need, which means she's building strong connections that will inevitably provide her with deals, and even referrals. Take the email below as an example: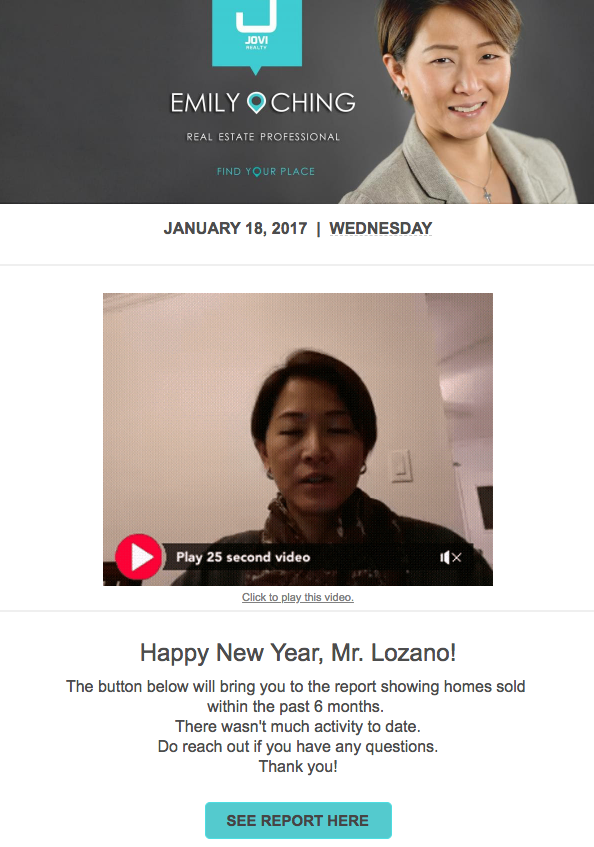 Emily provides her clients with individualized emails for any occasion to keep the connection strong and the value high. She also provides her leads with a little video clip of herself (built with bombbomb), which provides them with a little security in who she is, and how she would operate as a realtor.
Lastly, she provides leads with reports and market activity so they have a better understanding of when they should sell their home. Emily is constantly providing value, which makes her a little more unique – especially in a highly competitive market.
As she began describing more of her follow up systems, it was clear to us that Emily provides her leads and clients with as much value as possible. She mentioned to us that, "Once I put my leads into my CRM, it doesn't stop there. They'll hear from me a few times a month, and it's strict value. I'm not pitching them anything."
Whether that providing her leads with design advice, market information or even the worlds best vacation spots. She focuses on providing them with information, rather than over saturating them with pushy sales tactics. Take the following as an example: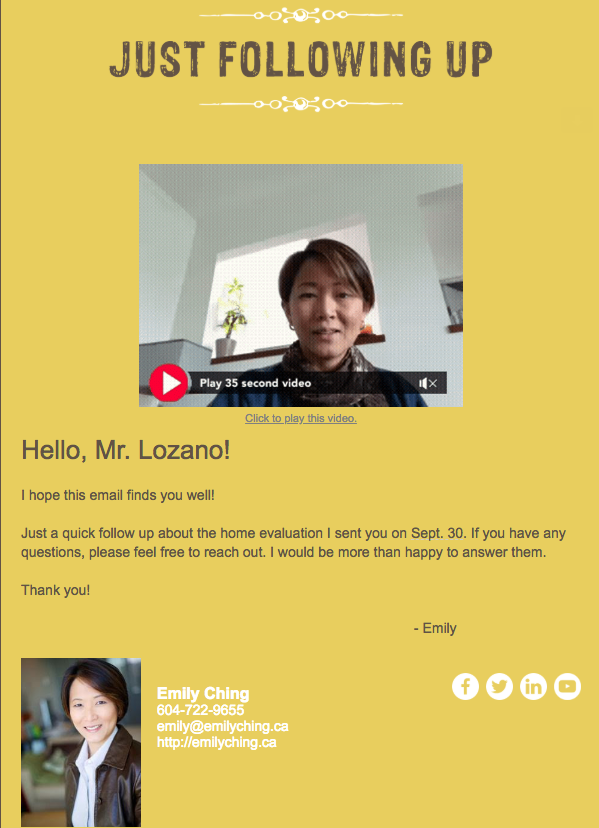 Again, providing value and information where it's needed so her leads have all the information they need to make an educated decision on their next steps in their home buying journey.
When asked about how she keeps herself moving and pursuing her dreams, Emily said that "You should be able to fail forward. It's about not being held back by your fears. Sometimes I would be afraid of talking to people because I would fear them saying no…I've learned that I don't need to do everything on my own, and you can always reach out for help."
Emily keeps pushing forward despite sometimes getting objections. She believes in learning from her mistakes but feels that she can also learn from mentors, and mistakes others have already made in the past.
"I think personal development is the basis and the foundation of everything. If you don't know how to deal with leads, what to do with them, you'll be wasting your money. You can go broke with Facebook ads because you might not know what to do with your leads. You have to learn these steps first or at least get someone to teach you… otherwise, you're wasting your money."
Emily is striving for greatness through the connections and relationships she's building. She's devoted to the long-term systems, which means she has the patience a lot of clients are looking for out of their real estate agents. After taking the time to get to know Emily, I can confidently say she is an anomaly amongst agents. She's focused more on the relationship, than the final goal.
Start a 7 day Trial through the link here, and ask us any questions. We're here, to help you grow your business.