Yesterday I was asked the following question:

"My ads are not performing well. Then I just launched an ad then I saw this message from Facebook 'Your ad may get zero leads'. Do I ignore this message?"
We've been advertising on Facebook for a long time. In fact, just this past week I noticed that we first started building our API on Facebook in 2013. In August it will be 10 years. It's almost time to throw a party 🥳 And the one thing that is constant are Facebook's never ending changes.

First I will answer the question, "Do I ignore this message?" And then let's dive into the 5 🔑 keys to unlocking Facebook ad performance.
When taking a look at their ad account you will notice the message is about audience size. And immediately below their audience is the actual size and range.
What you will notice is the size and range are perfect. They are reaching 1,700,000 to 1,900,000 people. Not too small, not too big. The ad was set up correctly, but they were getting a message to expand their audience. 🤯

So in this situation it is wise to ignore the message.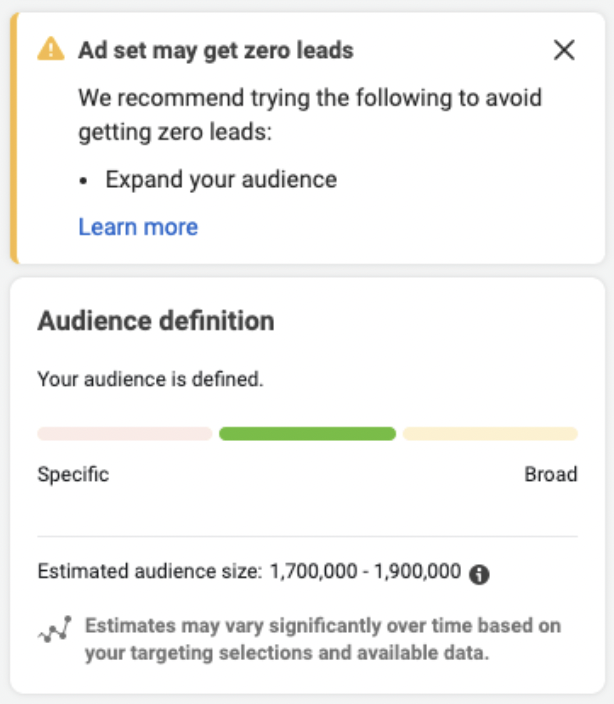 So why does Facebook get it so wrong?
Almost immediately after I was asked this question I saw this post in a Facebook group for advertisers. And I laughed when I saw the comments.
Now, rather than writing off all Facebook recommendations, I usually check to make sure if they make logical sense.
I'm not skeptical of the reason why Facebook is making their recommendations. I don't think it's to simply get you to spend more. They know that if you get results then you will spend more. So they want you to get results.
The problem with their recommendations is that they are blanket statements. And most of the time do not apply to the situation. They have millions of ads with dozens of possible placements. Multiple possible objectives. And different target niches, industries, audiences, creatives, and copy running at any given time. The likelihood that they understand the goal of the ad is almost null.
So what can you do to get your ads to perform better and capture more leads?
Let's go over the 5 keys 🔑 to unlocking Facebook ad performance! 📈
🔑 Key 1. Most important, start with an ad that you know works. AKA, a proven ad.
Why start with a working ad? Because otherwise it's easy to fall into what I call it the guessing game of doom LOL. I've seen talented Facebook advertisers go down this spiral when they aren't sure if it's the ad creative or the audience that isn't working. Causing ad budget to get wasted, results to plummet, and time lost.
Instead, starting with a proven ad means you can focus your efforts on the matching the best performing audience.
🔑 Key 2. Create 3 of the same ads in unique campaigns/adsets. 
Important* (Do not duplicate them because you want FB to give it a unique audience).
I know, I know, I know. But if I click that duplicate button it saves me time. The goal of this is to tap into 3 unique audiences on Facebook. To find out which audience is the best match and the lowest cost.
When you click duplicate the ad, FB actually duplicates the audience with the ad. Which is the opposite of what you want.
The easiest way to do this on StreetText is to enter the number of ads you want to launch just below the daily budget. This will create 3 unique ads, ad sets and campaigns. Each with unique audiences.
🔑 Key 3. Check on your ads after 1 – 3 days. Turn off the 2 ads with the highest cost per lead and leave the 1 ad running that is getting the best cost per lead.
🔑 Key 4. After a couple of weeks take a look at your ad spend and your budget.

If your budget is $10/day but your average ad spend is $7.42/day then reduce the budget to $7/day. Because otherwise Facebook will start charging more per lead.
🔑 Key 5. Leave a good ad running.
It can be tempting to turn an ad on/off/on/off/on/off. But avoid that. This will continue to reset the audience and will most likely increase the cost per lead you are getting in the long run.
(Caveat, this does not apply if you're running a remarketing ad because then you are telling Facebook the audience you want to show it to)
Summary:

There's a lot more that we can go into. But do those 5 things and you will start to see performance improvements in your ads immediately.

Looking for ads that are proven to work on Facebook and Instagram? StreetText is a Facebook and Instagram ad platform to run ads and generate leads. In the words of our customers, "It's a game changer."