Jeff Maass has been in Real Estate for 28 years, proudly serving the Orange County, Southern California area. He's been with StreetText for just over a year, and has already closed 6 additional transactions with a couple more in the pipeline!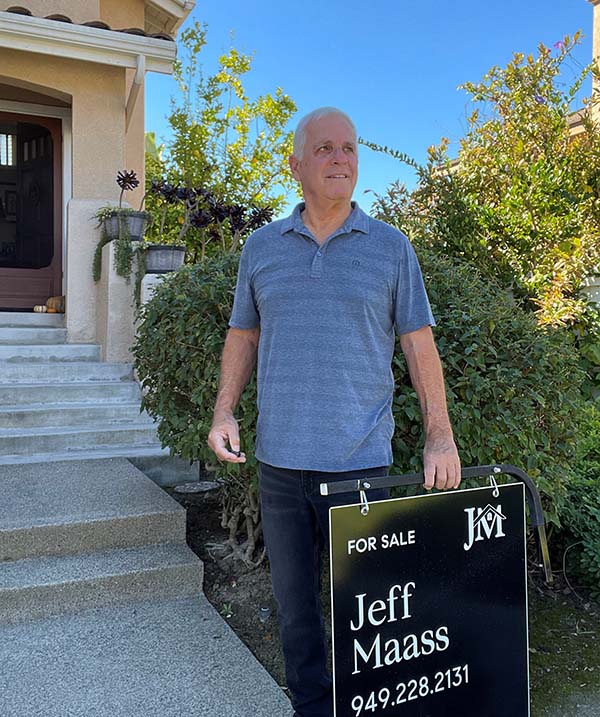 For Jeff, success as a Real Estate Agent has always been about building relationships and adding value. The more value you can provide, the more relationships you will build, and naturally, the more your network will keep growing.
Jeff's business has always been focused on being a value-add to a potential client, no matter where they're at in the market. He never has looked to close a lead immediately or hammer his clients for a quick close. His philosophy is that no homeowner wants to be asked over and over again when they're ready to sell. Eventually they'll just shut down. But when you continue to provide value, they'll be much more receptive and appreciative of your business.
"From my perspective, the more value I can add, the more my clients look at me as a resource and ultimately when they are ready, mine will be the first name that comes to mind when it's time to put their property on the market."
What sets Jeff Maass apart from the rest of the agents in the market? He treats every one of his leads as if they're already clients. That doesn't mean that he's delivering each lead a gift once they come in, but he's providing all of his clients with information and resources that are of value. These can be simple things, like access to his office photocopier, coffee machine, notary services, list of vendors, or anything that may be potentially real estate or business-related that they don't have a source for, he is are always happy to provide it for them.
Around the time Jeff found StreetText in 2020, the market was going crazy. Being a veteran in the industry, the majority of his business came from his SOI (sphere of influence), past clients and personal referrals which he had built up over the years, and was quite substantial.
Back in 2020, listings were and still are king. The problem for Jeff was that his listings were selling faster than he could put them on the market.
Jeff started a 7-day trial and was very successful in the first week in terms of lead flow. He appreciated the fact that StreetText was reasonably simple with the pre-built Ad Funnels and existing dashboard that was spot-on in terms of what he was looking for for tracking. He immediately began running Seller ads, and has been doing so ever since.
Jeff is an organizational guy and believes in the value of systems.
When he first signed up for StreetText, leads were flying in… but he had no systems in place and wasn't sure exactly how to respond to these leads.
"It took about a month for me to realize that I was late to the game in creating systems for my leads. Once I put my systems in place, they took over the requisite touches that I wanted to make with my leads. My systems are now running pretty streamlined and consistent, but I still tweak them every couple of months."
When a new lead enters Jeff's funnel, within that same hour if it is at all possible, he will create a customized video home valuation and send it out to his leads. If he can't send it out that moment, it will go out within 48 hours of receiving that lead every time.
From there, Jeff makes it a point to make a personal phone call to the client within 24 hours of that video going out to make sure they got it and if they have any questions.
After that point, the rest of his follow up becomes totally automated, but he always keeps in touch on a monthly basis just so I can be there to see if there's anything I can do to help them with any real estate needs or if they would like their home value updated.
"There's no one perfect CRM. There's no one perfect system. You have to do what you are most comfortable with and what mirrors you and your style in Real Estate the best."
Jeff has generated more than 6 additional deals from his Facebook ads on StreetText. That's an 18X ROI.
"There's no shortage of leads coming in, so I don't care where you are, if you're running the right ads, you're going to get leads. It just becomes a function of how you're going to nurture them."
Jeff's years of experience are obvious when you hear how he makes his decisions. As a result, his business is consistently growing as he stays on the cutting edge of tech and the opportunities they bring.
"I'm not a big believer in ups and downs and tempering back or throttling forward with your ad spend based on the time of the year. The key is consistency and in the end, that consistency makes a difference. If you're doing it right to begin with, why ramp up or down? Most of these leads are long-term nurtures, so stuff is not going to happen in the first quarter just because you ramp up in the fourth quarter – but being consistent and doing what you do best is what's going to keep getting you deals overtime"
Finally, Jeff didn't have everything figured out when he started with StreetText. But he found he had the support and guidance he needed from the weekly Masterminds and guides.
"My greatest tool has been the weekly StreetText Masterminds. We all come in starting from scratch with this system, we don't know what to do, but the Masterminds and Coaches are extremely helpful in talking everyone through what they need to do."
Give StreetText a try for 7 days and generate leads from paid Facebook ads.